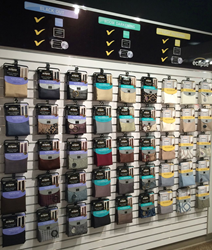 The new positioning and brand strategy has already translated into increased sales for Ellery's retail partners, along with increased market share and new brand extension opportunities for Ellery.
New York, NY (PRWEB) October 29, 2014
Ellery Homestyles, the home fashion products company, has repositioned and redesigned its signature line of EclipseTM curtains for improved category experience and increased market share. Eclipse, Ellery's flagship brand in windows and the leader and inventor of blackout curtains, was responding to feedback from retail partners that shopping and restocking the Eclipse brand could be improved and made more intuitive.
As the category leader, Hugh Rovit, CEO, felt it was incumbent upon Ellery to improve and grow the category overall while also growing market share.
He tapped Parham Santana, the brand extension agency, to help. Together, they formed an Eclipse branding team that included top management, design, sourcing, and sales. They looked at the business from 3 perspectives: the client, the market and the shopper. "It's a proven process that allows us and our client-partners to create a strategic framework and identify tactical solutions for success at retail," says John Parham, President, Parham Santana.
While Eclipse was originally conceived as an energy-saving, noise reducing, blackout curtain, the team discovered the brand equity at retail allowed for natural extensions into other categories: "100% light blocking," "room darkening" as well as "light filtering." Consumer insights revealed that opacity or light blocking was a matter of personal preference. This enabled Ellery to leverage its leadership role in blackout and expand to these additional product offerings in order to create a cohesive, integrated purchase system informed by consumer needs.
In addition, Eclipse's earlier focus on communicating the technical benefits: thermal coatings, woven fabrications, etc., was not resonating with the consumer. "What's important to you as a manufacturer may not be what's important to the consumer," says Parham. By repositioning Eclipse from just the "Blackout Curtain" brand, which is restrictive, to "America's Block-Out Brand," which is extendable, Eclipse made a subtle, but huge difference. "We then created three price points: Core, Signature and Premium that spoke to quality and style cues that our research confirmed was clear and valuable to the shopper."
The team at Parham Santana then went to work on the packaging of the products, taking them from complex, and non-intuitive to organized with an open look and feel. Zippered, vinyl covers were removed to allow shoppers to see and feel the quality and value. Lifestyle photography allows consumers to envision how the product fits in their own living environments while credential badges proclaim the leadership status in the category. A color-coded merchandising system for the four product classifications makes it easy to shop the category.
The new positioning and brand strategy has already translated into increased sales for Ellery's retail partners, along with increased market share and new brand extension opportunities for Ellery. Same product sales are seeing a 30%+ lift with the new branding at current distribution, while the new product offerings are outselling the competition 3 – 1 in some retail venues.
"My mandate is to continue to evolve Ellery in the direction of a consumer-centric mindset," says Rovit. "It's very much of a CPG-type disciplined way of thinking."
Based on the reception of Ellery's retail partners and the response of shoppers, new products will be rolled out in 2015 in line with this new strategy.
ABOUT PARHAM SANTANA
Parham Santana (http://www.parhamsantana.com), The Brand Extension Agency helps national brands extend and restage in the retail world. Positioning and brand extension strategies for clients have guided long-term multi-billion-dollar retail programs for thousands of products at major national retailers in every channel of distribution – including Walmart, Kohl's and Bed Bath & Beyond. Parham Santana's clients are among the worlds leading brands, including Food Network, Better Homes and Gardens, Discovery Channel, American Girl, and Petsmart.
ABOUT ELLERY HOMESTYLES
Ellery Homestyles is a leading supplier of branded and private label home-fashion products to major retailers - offering window treatments, bedding, throws and specialty products. Ellery's current brand portfolio includes Eclipse, Sundown by Eclipse, Waverly, Blissliving Home, Vue, Vue Signature and Ellery Home Studio. Headquartered in New York City, Ellery's main office is home to its design studio, product development team, administrative offices, and a state-of-the-art 25,000 sq. ft. showroom. The company leases a warehouse and distribution center in Fayetteville, NC which also houses a high-speed pillow filling operation. Additionally, Ellery maintains offices in China, India and Pakistan. For more information, please visit elleryhomestyles.com