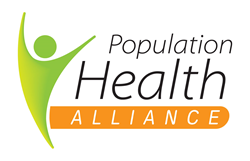 We are thrilled to welcome these organizations and to incorporate their distinct and important perspectives into our collective efforts on behalf of the industry
Washington, DC (PRWEB) October 29, 2014
The Population Health Alliance, a leading non-profit organization dedicated to advancing the principles of population health, announced today that it has welcomed three new member organizations to its growing association. New members include Jefferson School of Population Health, eQHealth Solutions, and Jiff.
"The field of population health continues to grow and evolve – not only in terms of the diversity of organizations and entrepreneurs offering creative solutions, but in the rigor required to frame issues and ideas for both policy makers and business leaders," said Fred Goldstein, executive director of the Population Health Alliance. "We are thrilled to welcome these organizations and to incorporate their distinct and important perspectives into our collective efforts on behalf of the industry."
PHA members work in a collaborative environment, and charter the agenda for the population health industry as a whole, through advocacy and research efforts. This results in a community that shares information, data and outcomes among employers, payers, innovative technology startups, long-term providers of population health management solutions, and others.
The upcoming PHA Forum 2014, which takes place in Scottsdale, Arizona on Dec. 10 - 12, will give new and current PHA members an opportunity to connect face to face on important population health trends.
New Population Health Alliance members include:
The Jefferson School of Population Health, established in 2008, is one of six schools and colleges that constitute Thomas Jefferson University, a leading academic health center founded in Philadelphia in 1824 as Jefferson Medical College. As the first designated School of Population Health in the country, they are dedicated to the exploration of policies and forces that determine the health and quality of life of populations, locally, nationally, and globally. Their mission is to prepare leaders with global vision to develop, implement, and evaluate health policies and systems that improve the health of populations and thereby enhance the quality of life. To learn more: http://www.jefferson.edu/university/population_health.html
eQHealth Solutions, founded in 1986 and headquartered in Baton Rouge, La., is a non-profit healthcare IT solutions and medical management services company that touches millions of lives annually. Their high-tech and high-touch models include innovative IT solutions and in-person clinical services across multiple states that focus on high-quality outcomes and optimization of provider and payer networks. They also perform utilization review, wellness services and quality reviews for home and community-based programs. eQHealth Solutions serves a variety of entities including federal, state and commercial clients. To learn more: http://www.eqhs.org/
Jiff is a venture-backed technology company based in Palo Alto, Calif., that is reinventing health care for employees. Using Jiff's HIPAA-compliant platform, companies can quickly connect their health benefit design and incentives to consumer digital health applications, devices, and services that employees love. Jiff builds incredible, unique mobile and web experiences for each employer that allows employees to compete or work together towards company-wide health goals. To learn more: http://www.jiff.com/#reinvent
About the Population Health Alliance
The Population Health Alliance (PHA) is a global trade association of the population health industry. The organization has nearly 100 members representing stakeholders from across the health care delivery system that seek to improve health outcomes, optimize medical and administrative spend, and drive affordability. Through its robust advocacy, research and education initiatives, the PHA offers members a forum to advance shared learning and applied research to further innovation and establish best practices in the population health field. Visit http://www.populationhealthalliance.org to learn and get ready to attend the PHA Forum 2014, in Scottsdale, Ariz., on Dec. 10-12, 2014.