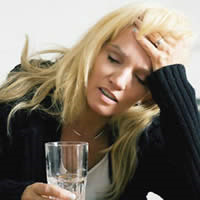 Washington, DC (PRWEB) October 29, 2014
Since drinking is so common in many cultures and the effects vary so widely from person to person, it's not always easy to figure out where the line is drawn between social and problem drinking. Drinking problems put an enormous strain on the people closest to those around them and often lead to alcohol dependency. There are many problems related to alcohol abuse and dependence and in honor of national work and family month, physician and author Dr. Sanjay Jain highlights some short and long term negative side effects from his book on this topic.
Short term side effects of alcohol use and dependency include:

Vomiting
Diarrhea
Headache
Dizziness
Drowsiness
Impaired judgment
Slower than normal reaction times and coordination
Blackouts
Negative interactions with medications
Long term effects of alcohol use and dependency include:
Loss of family and friends
Alcohol poisoning
Productivity loss
High blood pressure, stroke or other heart related illness
Unintentional injuries to self and others
Intentional harm to self
Liver damage
Nerve damage
Permanent brain damage
Ulcers
Malnutrition
Alcohol's effects vary with age and person. One definitive point worth mentioning is repeated alcohol use over time will take its toll on a person's family, life and health. If you or someone you know has alcohol issues there are many resources available on a local and national level to help. Reaching out is the first step in admitting there is a problem.
For more information on this and related topics please visit Dr. Sanjay Jain's website at http://www.sanjayjainmd.com/.
About Dr. Sanjay Jain:
Sanjay Jain, M.D. MBA is a New York Times and USA Today Best Selling author, accomplished medical doctor, health expert, life coach and inspirational keynote speaker who has dedicated his life to helping people find their purpose by achieving a meaningful life that they deeply cherish.
Sanjay Jain is U.S. trained and a board certified physician with over 15 years of clinical experience. He holds certifications in Diagnostic Radiology, Integrative Medicine, and Healthcare Quality and Management. He is a graduate from the accelerated BS/MD program at The Northeast Ohio Medical University. He has diversified experience in the private practice, academic, and integrated multispecialty settings.
He was a former assistant professor at The Ohio State University where he also obtained his MBA at the Fisher School of Business. The combination of which has given him a unique voice and understanding of the many issues we face today in a real and practical sense.
Follow Sanjay on Twitter at @sanjayjainmd. His new book, Optimal Living 360: Smart Decision Making for a Balanced Life (Greenleaf) is available in stores now!