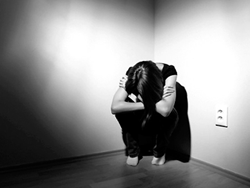 Washington, DC (PRWEB) October 29, 2014
The World Health Organization categorizes depression as one of the most disabling disorders in the world, affecting roughly one in five women and one in ten men at some point in their lifetime.
Depression does not discriminate. Men and women of every age, educational level, and social and economic background can suffer from it. There is no area in one's life that does not suffer when depression is present. Marriage, parenting, friendships, careers, finances – every aspect of daily living is compromised by this disease.
In light of this and National Depression Education and Awareness Month, physician and author Dr. Sanjay Jain offers some information from his book on how to become better aware of the signs of depression.

Depression affects children, teens, and adults of all ages. No one knows the exact number of teens affected by depression, but we do know that it affects a large number of teens, both male and female, from all ethnic and racial backgrounds. Sometimes it happens as a direct result of a stressful or upsetting situation, and sometimes it appears to have snuck up on you. It is important to try to understand the difference between feeling sad or "blue'" -- which are typical feelings experienced by everyone at times -- and being what is called "clinically depressed".
Depression is a real illness that impacts the brain. Anyone suffering from depression will tell you, it's not imaginary or "all in your head." It is more than just feeling "down." It is a serious illness caused by changes in brain chemistry.
This illness is more common than you think and most people who receive treatment for depression get better. Unfortunately, many people who are depressed don't seek help. Some people think that seeking treatment is a sign of weakness. Others are afraid to be seen as "crazy" for seeing a counselor or taking medication. Some people feel that their thoughts and feelings aren't important enough to concern others, or are none of anyone else's business
Research tells us that other factors contribute to the onset of depression, including genetics, changes in hormone levels, certain medical conditions, stress, grief or difficult life circumstances. Any of these factors alone or in combination can precipitate changes in brain chemistry that lead to depression's many symptoms.
There are many resources available if you or someone you know is suffering. One should not feel ashamed or embarrassed to seek help, Depression is a serious condition, if left untreated can have serious impacts to one's life.
If you or someone you know is suffering from this illness, you are not alone, seek help from family, friends, or local resources immediately.
For more information on this and related topics please visit Dr. Sanjay Jain's website at http://www.sanjayjainmd.com/.
About Dr. Sanjay Jain:
Sanjay Jain, M.D. MBA is a New York Times and USA Today Best Selling author, accomplished medical doctor, health expert, life coach and inspirational keynote speaker who has dedicated his life to helping people find their purpose by achieving a meaningful life that they deeply cherish.
Sanjay Jain is U.S. trained and a board certified physician with over 15 years of clinical experience. He holds certifications in Diagnostic Radiology, Integrative Medicine, and Healthcare Quality and Management. He is a graduate from the accelerated BS/MD program at The Northeast Ohio Medical University. He has diversified experience in the private practice, academic, and integrated multispecialty settings.
He was a former assistant professor at The Ohio State University where he also obtained his MBA at the Fisher School of Business. The combination of which has given him a unique voice and understanding of the many issues we face today in a real and practical sense.
Follow Sanjay on Twitter at @sanjayjainmd. His new book, Optimal Living 360: Smart Decision Making for a Balanced Life (Greenleaf) is available in stores now!