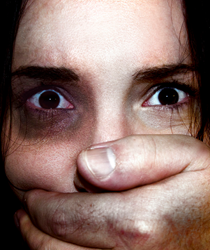 Washington, DC (PRWEB) October 29, 2014
Domestic violence happens far too often, affecting one in four women in their lifetime. This total number is greater than the amount of people affected by breast, lung, and ovarian cancer combined. Many people think that domestic violence consists of just physical abuse but are unaware that in fact financial abuse happens in 98% of all cases of domestic violence and is one of the most powerful ways to keep a victim trapped. In honor of National Domestic Violence Month, physician and author Dr. Sanjay Jain offers information from his book on domestic violence and helpful resources.
Domestic violence can be defined as a pattern of behavior in any relationship that is used to gain or maintain power and control over an intimate partner. Abuse can be physical, verbal, sexual, emotional, psychological, or economic.
Domestic violence may happen at home behind closed doors, but signs of abuse are often apparent to family, friends, and members of victims' communities. Batterers use threats, intimidation, isolation, and other behaviors to maintain power over their victims.
Domestic violence is a national problem that knows no boundaries it can happen to anyone in any community regardless of age, economic status, race, religion, nationality or educational background.
There are many resources available the first step is always admitting there is an issue and something needs to be done about it. Talk to friends, family, and neighbors' and call the police if experiencing or observing a threatening and dangerous situation. They will have information on many local shelters and places to go.
Local churches and pastors are also very knowledgeable about places and resources. As well as the National Domestic Violence Hotline, they are staffed 24 hours a day with trained professionals who can provide assistance and information about shelters, centers and counseling. The Number is 1-800-799-SAFE.
For more information on this and related topics please visit Dr. Sanjay Jain's website at http://www.sanjayjainmd.com/.
About Dr. Sanjay Jain:
Sanjay Jain, M.D. MBA is a New York Times and USA Today Best Selling author, accomplished medical doctor, health expert, life coach and inspirational keynote speaker who has dedicated his life to helping people find their purpose by achieving a meaningful life that they deeply cherish.
Sanjay Jain is U.S. trained and a board certified physician with over 15 years of clinical experience. He holds certifications in Diagnostic Radiology, Integrative Medicine, and Healthcare Quality and Management. He is a graduate from the accelerated BS/MD program at The Northeast Ohio Medical University. He has diversified experience in the private practice, academic, and integrated multispecialty settings.
He was a former assistant professor at The Ohio State University where he also obtained his MBA at the Fisher School of Business. The combination of which has given him a unique voice and understanding of the many issues we face today in a real and practical sense.
Follow Sanjay on Twitter at @sanjayjainmd. His new book, Optimal Living 360: Smart Decision Making for a Balanced Life (Greenleaf) is available in stores now!