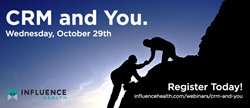 Birmingham, AL (PRWEB) October 28, 2014
ProHealth Care, an innovative health care system offering a full spectrum of services, will join Influence Health in an educational webinar on October 29, 2014. The marketing team will discuss successfully launching a customer relationship management (CRM) system and how to overcome challenges during the process.
ProHealth wanted to enhance its marketing infrastructure by building a CRM database to allow it to leverage patient and prospect data and perform predictive modeling. After selecting a vendor, they began building their program – but with it came a few roadblocks.
"We knew the process would have its share of challenges," stated Susen Rasmussen, Marketing Director, ProHealth Care. "Some of the hurdles we faced were expected while others were not. The partnership we developed with our vendor was key as we worked together to develop an implementation plan that addressed our needs."
On the upcoming webinar, "CRM & You: Solutions for Common Challenges," Susen Rasmussen from ProHealth will join Jessica Walker, Bill Andrae, MBA and Garett Trumpower, RN from Influence Health as they discuss solutions to overcome CRM obstacles and provide answers to pressing questions such as:

What are the benefits of using predictive analytics in healthcare?
How do I prove the value of CRM to internal stakeholders?
How can I build a communication plan to overcome negative perceptions?
Who from my organization should I involve in the decision process?
Webinar: October 29 at 11:00 a.m. PST/12:00 p.m. MST/1:00 p.m. CST/2:00 p.m. EST
*Register to attend: http://www.influencehealth.com/webinars/crm-and-you
About ProHealth Care
For a century, ProHealth Care has been the health care leader in Waukesha County, Wis. and surrounding areas, providing outstanding care across a full spectrum of services. The people of ProHealth Care strive to continuously improve the health and well-being of the community by combining skill, compassion and innovation. The ProHealth family includes Waukesha Memorial Hospital, Oconomowoc Memorial Hospital, the Rehabilitation Hospital of Wisconsin, ProHealth Care Medical Associates clinics, Moreland Surgery Center, AngelsGrace Hospice, ProHealth Home Care, West Wood Health & Fitness Center and Regency Senior Communities. Learn more at ProHealthCare.org.
About Influence Health
Influence Health provides the healthcare industry's only integrated digital consumer engagement and activation platform. The Influence Health platform enables providers, employers and payers to positively influence consumer decision making and health-behaviors well beyond the physical care setting through personalized and interactive multi-channel engagement. Since 1996, the Birmingham, AL-based company has helped more than 1,100 provider organizations influence consumers in a way that is transformative to financial and quality outcomes. For more information, please visit [http://www.influencehealth.com