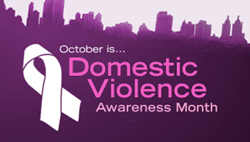 Washington, DC (PRWEB) October 29, 2014
In Honor of National Domestic Violence Awareness Month, Dr. Jain is shares some tips for women from his new book on how to get out of an abusive situation:

Know what sets the abuser off-be aware of signs or clues that could trigger a reaction.
Have a code word with family and friends that lets them know if you contact them using this word they should immediately contact the police.
Always be prepared to leave-make sure you have a bag packed, cash, important phone numbers, medications, and children's things packed and hidden where you can grab in a moment's notice.
Keep your cell phone charged at all times
Be careful on the computer with instant messages, chats, emails, anything that can be perceived as a threat to the abuser or set off the abuser.
Memorize emergency phone numbers and shelter locations so you don't need to search for them if you are in a hurry.
Arrange a safe place to stay-make sure you have a place to go if you leave and go immediately there.
Take a self defense class they are often held at local colleges or places at a very low cost.
For more information on this and related topics please visit Dr. Sanjay Jain's website at http://www.sanjayjainmd.com/.
About Dr. Sanjay Jain:
Sanjay Jain, M.D. MBA is a New York Times and USA Today Best Selling author, accomplished medical doctor, health expert, life coach and inspirational keynote speaker who has dedicated his life to helping people find their purpose by achieving a meaningful life that they deeply cherish.
Sanjay Jain is U.S. trained and a board certified physician with over 15 years of clinical experience. He holds certifications in Diagnostic Radiology, Integrative Medicine, and Healthcare Quality and Management. He is a graduate from the accelerated BS/MD program at The Northeast Ohio Medical University. He has diversified experience in the private practice, academic, and integrated multispecialty settings.
He was a former assistant professor at The Ohio State University where he also obtained his MBA at the Fisher School of Business. The combination of which has given him a unique voice and understanding of the many issues we face today in a real and practical sense.
Follow Sanjay on Twitter at @sanjayjainmd. His new book, Optimal Living 360: Smart Decision Making for a Balanced Life (Greenleaf) is available in stores now!