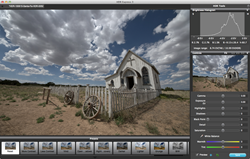 Belmont, CA (PRWEB) October 29, 2014
Unified Color Technologies, the experts in high dynamic range imaging (HDR), today announced HDR Express 3 – a significant upgrade to their photo enthusiast product, HDR Express 2. The long-awaited HDR Express 3 offers significant improvements in both performance and image quality, including a profound boost in merge speeds and new alignment and de-ghosting algorithms, while at the same time staying true to its simple, easy-to-use, easy-to-master design. With HDR Express 3, photographers can capture beautiful HDR images at a moment's notice – even without the assistance of a tripod – in any number of circumstances.
With the launch of HDR Express 3, Unified Color Technologies has taken the power of their professional application (HDR Expose 3) and transferred its capabilities into a fast, user-friendly format. The 32-bit color editing tools are more responsive than ever, and the software has shown merge process speed increases in excess of 200%.
"I often shoot seven or nine captures to create an HDR image, and must patiently wait while the HDR program aligns, de-ghosts, and merges them. HDR Express 3 virtually eliminates the waiting," says Stan Sholik, professional photographer and frequent contributor to Professional Photographer Magazine and other publications. "Where HDR Express 2 was about average among HDR programs when creating the initial HDR merged image, HDR Express 3 takes only about 1/2 as long to create the merged HDR from the same set of captures. This is a most welcome speed boost, and puts HDR Express 3, along with the other Unified Color HDR programs, among the fastest in creating the initial merged image."
Additional improvements include new automatic and manual keyframe selection tools for de-ghosting with the option to preview the merge settings, and the ability to shoot bracketed exposure series of moving objects without the assistance of a tripod. HDR Express 3 is also the first application developed by Unified Color that is designed to fully take advantage of OpenCL processing on computer graphics cards, thereby improving the entire user experience and making image adjustments more interactive.
HDR Express 3 features include:

New Merge, Alignment, and De-ghosting algorithms (previously seen in the recently released HDR Expose 3)
Improved Adaptive Tone Mapping algorithms, including a new "Gamma" control slider that allows users to adjust brightness of mid-tones and shadows while preserving highlight details
New easier-to-use visual file browser UI, with automatic grouping of exposure brackets and source file filtering for RAW, DNG, TIF & JPEG
Option to merge image files from moving objects or handheld shots and static camera and scenes
Updated camera RAW file support now including more than 600 different cameras
Updated Aperture (Mac version only) and Lightroom plug-ins (installed automatically with the main application)
Pricing and Availability
The HDR Express 3 update is available immediately and can be applied to all existing HDR Express 2 licenses that were purchased within 90 days of the launch free of charge. Existing customers that purchased HDR Express 2 more than 90 days before HDR Express 3's launch, or that already own another Unified Color Technologies product, can upgrade to HDR Express 3 for $49. New licenses for HDR Express 3 can be purchased for $79. For more details on HDR Express 3 or additional Unified Color Technologies products, please visit: http://www.unifiedcolor.com
System Requirements
Mac OS: Intel-based Mac OS 10.8.x (Mountain Lion), and Mac OS 10.9.x (Mavericks), Mac OS 10.10.x (Yosemite)
PC: 64-bit Windows 7 or Windows 8.
CPU: Dual-core 2.0GHz minimum; quad-core, 2.8GHz is recommended for best performance.
RAM: 2GB minimum, recommend 4GB.
Video: Recommend 128M video memory minimum
About Unified Color
Unified Color Technologies is redefining the capabilities of visual technology with a unique color system that powers the next-generation of high dynamic range (HDR) imaging devices and software. A significant improvement over current industry standards, Unified Color's new Beyond RGBTM color model presents a versatile color platform which is able to map a much larger color space encompassing the full human visual spectrum including colors found in nature and man-made light sources. Beyond RGB is available for licensing to digital imaging companies looking for a competitive market advantage. Powered by the Beyond RGB color model, the company's flagship HDR software offerings have set a new industry standard for creating, depicting and editing the most realistic HDR images. More information about Unified Color can be found at http://www.unifiedcolor.com.