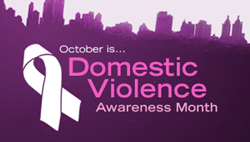 Washington, DC (PRWEB) October 29, 2014
Studies show that one out of every four women will become a victim of domestic violence at some point in her life. Other sources say in the United States, a woman is abused – beaten or assaulted, every nine seconds and at least three women die daily as a result of domestic violence. Honoring Domestic Violence Month, physician and author Dr. Sanjay Jain offers some information from his book on domestic violence.

Most people view domestic violence as only a physical act. It should be noted there are many faces to domestic violence. Domestic violence can either be physical or emotional. If you are being hit by your partner, or they force you to have sexual intercourse, you are being abused.
Any activity you carry without your volition and not carrying out this action makes you feel unsafe and threatened translates to abuse. Some women even suffer from domestic violence in the form of words. In this case, they are almost always down and words coming out of their partners' mouths will usually put them down.
The most common form of domestic violence is battery. Battered women are very easy to identify as domestic violence victims due to the obvious scars and marks on their bodies after some battery.
There are some tips to help women that find themselves or their friends in domestic violence situations. These domestic violence resources help domestic violence victims get out of their present predicaments and ensure a safe, fast, and easy transition into a new and better life. Most victims are usually scared of the aftermath of reporting domestic violence situations and what happens after they leave their spouses. Thanks to the different domestic violence resources available, the transition process has been made easier and victims can be sure of living a better life and in some cases, getting legal help.
The first step in getting out of a domestic violence situation is to admitting your situation and not being afraid to ask for help. Never be afraid to call 911 if you find yourself in a situation where help is needed. Domestic violence is a crime and this makes calling a police is a very good reason to stop the reoccurrence.
Talking to a friend, relative, or neighbor can also help rescue a domestic violence situation. They may have some insight to domestic violence and might offer ways of better handling such situations. They might also know other people, individuals, or organization that can offer help.
It is always great to see a domestic violence survivor but what many people do not realize is what it entails to successfully survive domestic violence and carrying on living a good or even better life after the incident.
There are various resources available to help individuals wanting to get out of such horrible situations. Besides the already stated tips and resources, the internet, women's shelter, and your state coalition against domestic violence are some other available resources.
For more information on this and related topics please visit Dr. Sanjay Jain's website at http://www.sanjayjainmd.com/
About Dr. Sanjay Jain:
Sanjay Jain, M.D. MBA is a New York Times and USA Today Best Selling author, accomplished medical doctor, health expert, life coach and inspirational keynote speaker who has dedicated his life to helping people find their purpose by achieving a meaningful life that they deeply cherish.
Sanjay Jain is U.S. trained and a board certified physician with over 15 years of clinical experience. He holds certifications in Diagnostic Radiology, Integrative Medicine, and Healthcare Quality and Management. He is a graduate from the accelerated BS/MD program at The Northeast Ohio Medical University. He has diversified experience in the private practice, academic, and integrated multispecialty settings.
He was a former assistant professor at The Ohio State University where he also obtained his MBA at the Fisher School of Business. The combination of which has given him a unique voice and understanding of the many issues we face today in a real and practical sense.
Follow Sanjay on Twitter at @sanjayjainmd. His new book, Optimal Living 360: Smart Decision Making for a Balanced Life (Greenleaf) is available in stores now!