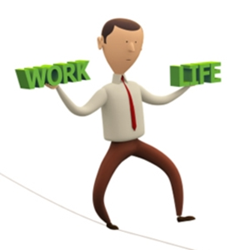 Washington, DC (PRWEB) October 29, 2014
Some of today's most common career advice is to strive for and maintain a proper work life balance. This can mean different things to different people. For some, it means having the resources to do things like travel, gifts, have a nice home and for others, it means having quality time to spend with family or pursue personal interests. In general, people try to develop work life balance as part of a pursuit of overall happiness and career satisfaction. In honor of National Work and Family Month, Dr. Sanjay Jain has provided some information from his new book on achieving a better work-life balance.
Work-life balance is good for both employees and companies but is often misunderstood to mean people should have more leisure even if companies earn less money. According to the Personal Efficiency Program, however, personal efficiency is the key to achieve work-life balance where employees are evaluated based on their productivity. Therefore, work-life balance can help employers and employees at the same time by paying wages based on the efficiency of work.
When work life and personal life are out of balance, stress levels soar. The following are some tips to help a work life balance:

Build time into your schedule to do things you enjoy
Drop activities in your life that are wasting your time and energy
Compress time and activities rethink whether there things you can do together
Take time to exercise-this is difficult when you are already jugging a full schedule but studies show exercise helps you to be more alert
Define what balance means to you this will be different for everyone
When you're away from work actually be away from work
Plan your work day ahead of time this helps you stay on task at work
Take care of you-this means healthy eating and good amounts of rest
For more information on this and related topics please visit Dr. Sanjay Jain's website at http://www.sanjayjainmd.com/.
About Dr. Sanjay Jain:
Sanjay Jain, M.D. MBA is a New York Times and USA Today Best Selling author, accomplished medical doctor, health expert, life coach and inspirational keynote speaker who has dedicated his life to helping people find their purpose by achieving a meaningful life that they deeply cherish.
Sanjay Jain is U.S. trained and a board certified physician with over 15 years of clinical experience. He holds certifications in Diagnostic Radiology, Integrative Medicine, and Healthcare Quality and Management. He is a graduate from the accelerated BS/MD program at The Northeast Ohio Medical University. He has diversified experience in the private practice, academic, and integrated multispecialty settings.
He was a former assistant professor at The Ohio State University where he also obtained his MBA at the Fisher School of Business. The combination of which has given him a unique voice and understanding of the many issues we face today in a real and practical sense.
Follow Sanjay on Twitter at @sanjayjainmd. His new book, Optimal Living 360: Smart Decision Making for a Balanced Life (Greenleaf) is available in stores now!