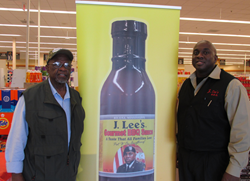 If you don't want to be in the kitchen all day, every day, make a sauce you can put on anything
Detroit, MI (PRWEB) October 29, 2014
In early October, the Sauce Team (TST) of J. Lee's Gourmet BBQ Sauce was privileged to travel to Michigan and Illinois to introduce their product to military base commissaries. While there, the founder of the sauce recipe, James Lee also known as J. Lee, reconnected with his uncle retired Master Sergeant Issac Lee, the man who first taught him how to barbecue. As a teenager J. Lee would visit his uncle during the summer and watch how he mastered the art of barbecuing. "If you don't want to be in the kitchen all day, every day, make a sauce you can put on anything"- Isaac Lee (spoken to James Lee in the late 90's)
While is Michigan and Illinois the company visited the Selfridge, MI commissary, Rock Island commissary, Great Lakes commissary and Scott Air force Base. The highlight of the trip was their sellout product presentation at Scott AFB with a record of 120 bottles sold in just one hour. The company attributes their success to hard work and the delicious recipe created by J. Lee.
About J. Lee's Gourmet BBQ Sauce:
Since 1999, J. Lee's Gourmet BBQ Sauce has been providing a one of a kind all-purpose sauce across the country. Headquartered in Biloxi, MS, the city serves as hometown to the CEO, Helen J. Lee, recipe founder James Lee and Sales and Marketing Director, Ashante Vereen. The company's commercial origins date back to the first store to put J. Lee's Gourmet BBQ Sauce on its shelves, Neco's Family Market, in Pass Christian, MS. Their sauce sold out in just 4 hours after a tasting event held there starting a trend of sauce sellouts at other tasting events to follow. The company's slogan "Put It On Anything!" truly embodies the unique blend of flavors the sauce provides, offering enough tang and sweet for a well-balanced blend. Popular foods the sauce is used with are pizza, hamburgers, French fries, rice, shrimp, fish, steamed vegetables and more. The sauce can be obtained at one of the many tasting events across the nation as well as grocery chains including U.S. military commissaries, Wal-Mart's across South Mississippi, and their website. For more information on the next product demonstration at a city near you, or to order some today,please visit their website at http://www.jleessauce.com/ or Facebook page at https://www.facebook.com/JLeesGourmetBBQSauce.