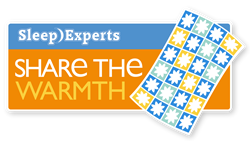 "With the help of the Girl Scouts and our local communities, we have collected over 20,000 items in the drive's first ten years, and we hope to bring warmth to more families this year and have our most successful Share the Warmth drive yet."
DALLAS, Texas (PRWEB) October 29, 2014
For the 11th consecutive year, Sleep Experts will host its annual Share the Warmth drive, collecting new and gently used blankets, sheets, comforters, towels and pillows. Sleep Experts will continue its partnership with Girl Scouts for the fourth year in a row, receiving a helping hand from thousands of Girl Scouts representing the Northeast Texas (Dallas) and Texas Oklahoma Plains (Fort Worth) councils. The community also is invited to participate by collecting and dropping off the items at any of the 45 Sleep Experts stores in Dallas. This year's drive will benefit CitySquare and will be held from Nov. 1 through Nov. 30.
"Sleep Experts has a long tradition of bringing the community together to share the gift of sleep and bring comfort to families in need during the holiday season," said Adam Benigni, vice president and district manager for Sleep Experts. "With the help of the Girl Scouts and our local communities, we have collected over 20,000 items in the drive's first ten years, and we hope to bring warmth to more families this year and have our most successful Share the Warmth drive yet."
The local Girl Scouts participate by collecting blankets and other comfort items in their own communities, learning about the importance of helping others. At the end of the drive, each Girl Scout will earn a special Share the Warmth community service patch.
"A cornerstone to Girl Scouting is making the world a better place through community service. One of our favorite ways to give back during the holiday season is by promoting Share the Warmth, a terrific partnership between Girl Scouts and Sleep Experts," said Jennifer Bartkowski, chief executive officer of the Girl Scouts of Northeast Texas. "Last year, Girl Scouts collected more than 6,000 comfort items and our girls look forward to once again providing comfort and security to those in need through CitySquare."
The items collected during the drive will be delivered in early December to CitySquare to help keep local citizens warm this winter season. CitySquare, a Dallas-based 501(c)(3) non-profit organization, aims to fight the root causes of poverty through service, advocacy and friendship. The organization offers programs throughout Dallas, Houston, San Antonio, Waco and Austin.
"Poverty is widespread in our local communities and the holiday season is not an easy one for those in need," said Shawn Wills, Chief Development Officer at CitySquare. "We are honored to be the beneficiary of Share the Warmth this year and are so thankful to Sleep Experts and the Girl Scouts for helping us care for those who need it most."
To participate in Share the Warmth, visit any of the 45 Sleep Experts stores in Dallas. For more information on Share the Warmth and Sleep Experts' Share the Gift of Sleep, please visit http://www.SleepExperts.com.
About Sleep Experts
Sleep Experts is a mattress specialty retailer with 59 stores in North and Central Texas. The company has become one of the fastest growing mattress retailers in the U.S. by creating a strong culture focused on serving the customer and the community. Sleep Experts has won the Consumers' Choice Awards for eight consecutive years, a recognition voted by North Texas consumers and classifying Sleep Experts as a "Best in Class Business." The company also has been recognized seven times as a Best Place to Work in North Texas, earned distinction as an Inc. 5000 company, and is a winner of the Greater Dallas Business Ethics Award. Sleep Experts' new and exclusive Expert Match diagnostic system is an industry-leading technology, helping customers find the right mattress with the right support to best meet their sleep needs. The company shares the gift of sleep with families in need by donating customers' old mattresses to local non-profit organizations. For more information, visit http://www.SleepExperts.com or call (888) 55-SLEEP.
About Girl Scouts of Northeast Texas
Girl Scouts is the premiere leadership organization and is the largest pipeline for female leadership. Girl Scouts builds girls of courage, confidence and character, who make the world a better place. Girl Scouts of Northeast Texas serves more than 30,000 girls and 17,000 adults in 32 northeast Texas counties. For information on how to join, volunteer, donate or reconnect to the Girl Scouts of Northeast Texas, call (800) 442-2260 or visit http://www.gsnetx.org.
About CitySquare
CitySquare fights poverty through service, advocacy, and friendship with programs that feed the hungry, heal the sick, house the homeless, and renew hope in the heart of the city. For more than 25 years, CitySquare has addressed the root causes of poverty by working together with the people they serve. Originally started as the Central Dallas Ministries Food Pantry, CitySquare has grown to be one of the largest, most effective social services organizations in Texas serving more than 50,000 unduplicated neighbors each year through its 14 different programs. CitySquare serves three populations of people living in poverty—the homeless, the working poor, and at-risk youth. Its interlocking network of programs can be categorized into four key areas: Hunger, Health, Housing, and Hope. Combined, our programs reach more than 50,000 men, women, and children each year. CitySquare offers a variety of poverty-fighting programs throughout Dallas, as well, in Austin, Houston, San Antonio, and Waco. For more information, go to http://www.CitySquare.org.
# # #