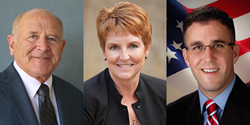 The direction of our council has been a series of false starts in attempting to promote and grow the economy in the City
Rancho Santa Margarita, CA (PRWEB) October 29, 2014
It's time for a change in RSM leadership according to three city council candidates who are endorsed by the 'Yes on Z' campaign, and who wholeheartedly support Measure Z and what it would mean for the city. Come November 4, 2014, residents of RSM will have the opportunity to cast their votes for the future of their city and values.
Laurie Biehl, Don Chadd, and incumbent Jesse Petrilla believe in revitalizing the things that RSM and Orange County have always valued - economic and business growth, and minimizing the long arm of government in people's daily lives.
"The direction of our council has been a series of false starts in attempting to promote and grow the economy in the City," said Chadd, city council candidate. Referring to the RSM council majority's stance on Measure Z regarding the rezoning of the former Nissan site, he said, "The current council positions are neither friendly nor helpful to the long term financial health of the city… I support [Measure Z] without doubt or reservation."
Biehl and Petrilla are both independent and small business owners who recognize the challenges faced in job growth and economic development, especially in light of the government's barring stance on Measure Z and rezoning the Nissan dealership. "One of my top priorities," said Biehl, "will be to make RSM a place where businesses are welcomed and job growth encouraged. I will apply my decades of experience to our city budget, protecting the taxpayers' dollar."
Chadd has worked and volunteered in many public sector jobs, acquiring a keen ability to understand and navigate bureaucratic issues and red tape.
Joe Daichendt, owner of the former Nissan dealership and CEO of Theory R Properties, looks forward to a healthier RSM government that hears the voices of its people. "The assumption often is that a strong government needs to be involved in the daily lives and pocketbooks of its constituents. But these three candidates show that the strength of government comes from its respect of the will of the people, and its ability to control its power when it doesn't have to. That's why 'Yes on Z' is proud to back these three candidates in their hopeful service to their community."
Biehl and Chadd are both backed by Petrilla and Steve Baric, both current members of the RSM city council. They believe they can work together to bring the change that they believe the city needs. Petrilla is backed by the Howard Jarvis Taxpayer's Association. Chris Vosburg of Howard Jarvis said, "We believe that [he] has been an excellent representative for taxpayers, and look forward to [working] with [him] in the years ahead."
Petrilla is dedicated to strengthening the economy, increasing public safety, and keeping government limited. He and Chadd have publically supported cutting taxpayer-funded healthcare and retirement benefits for council members. After all, "it's not a fulltime job," Chadd said. Petrilla has spearheaded efforts within the government for politicians to view their service as a giving back to the community rather than as a career. He has opted out of all benefits, and pledged "to never vote to raise taxes".
Chadd said, "Growing the economy in RSM needs to begin with new ideas, the right people, and commitment to success."
The' Yes on Z' campaign believes that these are those 'right people' for the job.