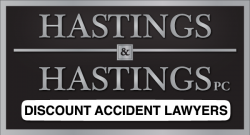 (PRWEB) October 30, 2014
Hastings and Hastings, a law firm that offers personal injury representation in Phoenix Arizona announces new website enhancements for the firm's primary online portal. Hastings and Hastings is taking full advantage of the technological advances made available by today's modern Internet. By enhancing the existing website, the firm is able to provide clients even greater conveniences and more information with regard to a wide range of personal injury accidents. From motorcycle accidents to biking accident and pedestrian accidents as well as SUV accidents and slip and fall related accidents, Hastings and Hastings has been helping the residents of Arizona. The firm has been providing focused representation for decades. Most importantly, the firm offers discount accident attorney fees that are considered groundbreaking in the industry.
The firm handles everything from accident injuries that involve fractures, burns and road rash to spinal cord injuries. In addition paralysis associated with accidents and loss of life type accidents are all addressed by this dedicated team of focused lawyers. The firm offers something known as a no fee promise that simply means if there is no successful recovery that there will be no attorney's fees required of the client. This is an important aspect of the Hastings and Hastings difference in that it takes the pressure off of clients in knowing that there will not be additional financial burden regardless of the outcome of accident related investigations or negotiations. Most importantly, the firm emphasizes that discounted fees do not mean discounted service. Clients can expect resourceful and focused representation every time.
Hastings and Hastings has grown to include 11 convenient offices located throughout the greater Phoenix metropolitan area. Clients from around Phoenix and across the state of Arizona have access to focused representation when they have been injured through no fault of their own or through the negligence of another individual. Another key advantage of choosing to work with Hastings and Hastings is that the firm will routinely come to clients at home or in the hospital if they are unable to travel or are immobile due to injuries.
The firm offers free consultations that are only scheduled with a lawyer and not a salesperson, office employee or paralegal. Having saved clients millions of dollars in recent years, Hastings and Hastings has consistently exceeded the expectations of clients when it comes to dedicated and focused representation for a wide range of injuries that were caused by accidents. Further enhancing the website allows Hastings and Hastings to provide even more comprehensive and complete services for clients on a daily basis. This recent announcement with regard to new website enhancements for the firm's primary online portal is just one more key indicator that Hastings and Hastings is dedicated to providing the absolute best in representation and services for its clients.
Hastings and Hastings is a leading provider of discount personal injury legal services located in and serving the greater Phoenix Metropolitan area. This respected legal firm specializes in assisting individuals that have been the victim of serious injuries that have resulted from accidents that were not fault of their own. Hastings and Hastings is a trusted group of attorneys that deliver personalized service and guidance for injury victims throughout Phoenix and all across the state of Arizona. Hastings and Hastings is known throughout legal circles as a dedicated team of professionals and a law firm that has been representing accident victims throughout Arizona for decades. Hastings and Hastings has consistently exceeds client's expectations with regard to representing a wide array of accident related injury victims at times when it matters the most and always doing so with discount attorney's Fees.