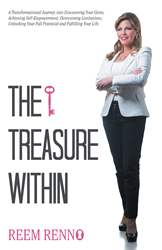 "I have been through an ultimate low, but emerged transformed and happier than ever. I have awakened and learned to go beyond simply winning a battle."
Montreal, QC (PRWEB) October 29, 2014
More than 1,600,000 new cases of cancer devastate families each year in North America, according to an American Cancer Society study. Reem Renno joined the group of those affected by a family member's diagnosis when her husband was diagnosed with cancer in 2010.
Her experiences were so powerful that she decided to write about them to assist others. "The Treasure Within" is an inspirational guide of purpose and perseverance that assists readers in improving their lifestyles.
In the book, Renno drives home the importance of energy, The Law of Attraction and the priorities of inner peace and health. Detailing healthy eating tips and meditation techniques, Renno provides an abundance of self-improvement tips for readers.
A business owner and creative artist, Renno's life-changing journey has afforded her new success and balance in her personal life.
"I have been through an ultimate low, but emerged transformed and happier than ever. I have awakened and learned to go beyond simply winning a battle," Renno said.
"I am thrilled to be able to share my story and help touch the lives of cancer survivors and their families during difficult times."
For more information, visit http://facebook.com/TheTreasureWithin
"The Treasure Within"
By Reem Renno
Available in softcover and e-book formats
Available on Amazon, Google Books and Balboa Press.
About the author
Reem Renno is a successful business owner and creative artist with degrees in business administration and interior design. Renno enjoys oil painting, interior design, handcrafts, clay sculpturing and stained glass in her spare time. Renno and her husband have four children and reside in Montreal.