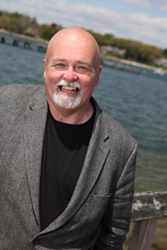 Libertarian McDermott's 5 Point Plan begins with eliminating the New York State income tax.
New York, NY (PRWEB) October 29, 2014
Libertarian McDermott's 5 Step Program for Growth and Stability is shaking things up. And by shaking things up, New York voters have a chance to look very carefully at one of the key parts of The 5 Step Plan - the elimination of the New York State Income Tax. McDermott explained the plan in this white paper and this video.
McDermott's plan calls for 25% reduction in the income tax each year for 4 years accompanied by expenditure reductions of 10% each year. That's sufficient to offset the tax reduction because the income tax represents only about $40 billion of the state's $140 billion budget. The economic boom that will result will further reduce the need for expenditure cuts.
Why do this? What is the benefit to New Yorkers?
The states which have no income tax are thriving in the current economic downturn, and that's because by eliminating the State Income Tax, those states have let families keep that large part of their income and spend it as they see appropriate.
New York is one of the highest taxed states. That is causing companies to move to more tax friendly states, costing New Yorkers jobs and reducing economic growth.
It is Candidate McDermott's belief that this money needs to be returned to the people of New York.
Candidate McDermott has entered the New York Governor's Race with a 5 Step Program designed to return the state to prosperity, increase business growth, get big government out of the way, dramatically accelerate job creation and put the big kibosh on wasteful government spending.
That's a tall order and might be better left to a seasoned, career politician. And yet, that's exactly the problem according to McDermott. Career politicians are the reason New York is in such dire straits.
These politicians are unable - or unwilling - to take the dramatic steps McDermott proposes.
Michael McDermott is running on a platform of smaller New York State Government, lowering taxes on New Yorkers, and reversing the exodus of New Yorkers from the state. Mr. McDermott has also proposed a unique set of solutions to counter excess and wasteful spending by the State.
McDermott ran in 2012 for the 3rd Congressional District on Long Island, and has worked as a commercial real estate broker for the past several years in Long Island, New York.