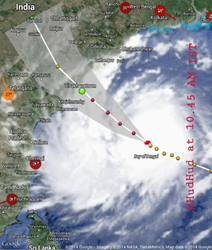 Donate Generously to the India Network Foundation Cyclone Relief Fund to help primary education in Andhra Pradesh, India
Orlando, FL (PRWEB) October 29, 2014
India Network Foundation, a non-profit organization in the United States today launches Andhra Pradesh (India) HudHud Hurricane Relief Fund to help badly damaged infrastructure in rural government elementary schools in the coastal districts of Andhra Pradesh. India Network has been in the forefront in helping the victims of various natural disasters in Orissa, Andhra Pradesh and in Gujarat earthquake. The Foundation's primary focus has been helping the primary and secondary schools with infrastructure building, supplying of basic amenities like desks and benches for students, toilets for girl students, among many others. India Network Foundation appeal to everyone to contribute generously using the AP Cyclone Online Relief Fund through credit cards
Several people lost their lives and many areas remained without electricity and water for several days. India Network Foundation through its dedicated team of volunteers will soon identify various rural schools in the hurricane hit areas with the assistance of district collectors. The Foundation goal is to quickly help these schools recover from the this natural disaster and help students.
Dr. KV Rao, India Network Foundation President said that the INF approach to help directly end users gives him enormous satisfaction that funds collected were well spent in a time bound fashion. Even today whenever he visits India, several teaches thank the Foundation for its donation of Godrej Almaras and laminated maps donation made few years back. The Foundation allow individual donors to sponsor his/her own village public school reconstruction through the Foundation Project donation.
Dr. Rao urges everyone to contribute generously to reach its target of One Crore rupees fund to help many rural schools with essential basic necessities such as toilets for school children. Online Secure Donation Form has been setup to make it easy for people to donate. All donations to the Foundation are tax-exempt in the United States.
Anyone can donate any amount to the AP Cyclone Relief Fund of the India Network Foundation by completing the donation form on the secure server web site using American Express, Master Card, Visa or Discover card using the online secure server donation form,
About India Network Foundation, USA
India Network Foundation, established as a US non-profit organization, has been helping the Asian Indian community in North America with programs and grants to academics from India for more than two decades. India Network Foundation sponsors visitor health insurance to tourists, students, temporary workers (H1 visa holders) and their families and travel grants to qualified researchers from India. For more information visit http://www.indianetwork.org