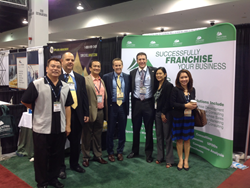 With 1Heart franchise - 'Your success is our Success!'
Los Angeles, California (PRWEB) October 28, 2014
1Heart Caregiver Services recently received the approval for California state registration for its franchising business with the able support and franchise development assistance of Franchise Marketing Systems based in Georgia with franchise consultants and key executives in Boston and Chicago. 1Heart Care partners again strategically during the West Coast Franchise Expo with Franchise Marketing Systems to expand and grow the brand in the whole USA and in the future globally.
Franchise Marketing Systems (FMS) President Chris Conner, Vice-President Alan George and FMS Chief Operating Officer Tom DuFore and Consultant Devin Conner met and worked for 3 days during the Franchise expo with 1Heart Director for Business Development and Training Randolph Clarito, Vice-President for Operations Kevin Tagarao and Client Care Manager (CCM) Arnold Navarro supported by the whole team of CCMs – Anne Capili, Shirley Billedo and Andrei Peralta.
1Heart Care and FMS have firmed up the development of the components of the franchise program, like the business plan, operations manual and training program, marketing programs for franchisees, operating systems, development of the fee structure, unique concept, business process and methodology how to grow the franchise business, on-going support system and development of the required documentation by specialized franchise legal counsel.
1Heart Care franchise benefits (http://1HeartCares.com/franchise-opportunity/) stand out from among the other senior care franchise and other franchise industry like lowest investment risk, minimal brick and mortar expense, short ramp up time, affordable multi-franchise opportunities and gross revenue can reach high levels in 1 or 2 years with excellent gross margins. 1Heart Care franchisees will gain competitive edge from its unique concepts and programs successfully implemented for 11 years like 1Heart corporate strategy, 1Heart formula for success, 1Heart purpose of business, 'circle of care', 1Heart selling system, 1Heart winning edge, M.I.S., S.T.A.R. philosophy, efficient case management and staffing solution, SEO and web marketing, lead generation, press release campaign and building business through strategic partnership.
FMS executives and 1Heart Care corporate team sealed its commitment to help build and grow 1Heart franchise brand all over USA and bring it to greater heights ensuring strong business presence in major cities and states all over USA. This strategic partnership will remain solid in the next Franchise expo to be held in Houston Texas on the 5th of February year 2015 and in New York USA on June 2015.
About 1Heart Group of Company headed by CEO Belina Tagarao:
1Heart Caregiver ServicesTM (1Heart CS) http://www.1Heartcares.com is a premier in-home care service company that provides professional private care duty to seniors and adults requiring assistance in their home and healthcare needs for the past 11 years. The company is run and managed by healthcare Executives with local and international training with combined top level executive work experience of more than 50 years. CEO Belina Tagarao is a Los Angeles IMAGE AWARDS honoree 2013 and HiFi 2014 Fil-American awardee as HiFi Ambassador of Goodwill within the Fil-American business community in Los Angeles. 1Heart CS is the only In-Home Care company that has its in-house 'Caregiver University' spearheaded by Training Director Randy Neil in Southern California area that provides professional caregiver training held at its Los Angeles head office aligned with its 'Continuing Professional Education' program implemented to all corporate managers and staff of the company and extended to senior living facility requiring in-service training for their staff. The Staffing department headed by Staffing Officer Jennifer Remigio, Charlotte Baseleres and associate Bernadette Manahan takes charge of staffing solutions to all cases, hiring, payroll and screening of all applicants and update of caregivers, CNA and HHA data base that can readily be assigned to new and existing cases handled by Client and Care Managers Arnold Navarro, Anne Capili, Shirley Billedo and Andrei Peralta assigned in each target County. The company Vice-President of Operations Kevin Tagarao has consolidated the company's daily operations, established online web presence and facilitated integration of new technologies. The company carries out a 'Circle of Care' process that is uniquely implemented by all 1Heart Managers and remains unmatched by any senior care service company. 1Heart CS is a Certified Member of CAHSAH, California Association for Health Services at Home, Los Angeles Chamber of Commerce, Conejo Valley Chamber of Commerce, BBB and operates in Los Angeles County, Orange County, Ventura County, San Fernando Valley, San Bernardino County and Santa Barbara County area. For a case evaluation, call #213-351-9100 #805-338-8100, #310-779-6254, #818-561-6641 and #562-412-2420 for an agreed schedule of appointment. For caregiver applicants with minimum of 2 years work experience, look for Jennifer Remigio to process the application with the submission of live scan finger print, SS card, CA Driver's license, CPR / First aid certification and TB test results. 1Heart Caregiver Services is now officially declared as a Master Franchisor having received the California state registration legally allowing 1Heart to offer franchise to different business group all over USA.
L.A. Jobs Employment Agency
The leading career and visa specialist in Los Angeles for foreign professionals. L.A. Jobs, http://www.lajobsea.com provides more opportunities for international workers who are highly qualified professionals and competitive to be able to build their career in the U.S. The company had successfully placed hundreds of applicants in the past few years even during the period of recession and it had attained a high approval rate of H-1B work petitions and green card of applicants enabling them to take the path to citizenship through employment and live the American dream. The company aims to be the premier leader in the employment industry in the U.S. Visit for no charge consultation and look for Mari Reola, HR Manager and Pam Sison, Legal and Marketing Specialist or call at #213-351-9100.
Summit Medical Billing
A fast growing Medical Billing company that helps physicians and other medical and healthcare companies obtain payment from insurance carriers and patients by effectively handling insurance claims and aid them to manage their practice and finance side efficiently. Summit Medical Billing with its staff Arielle, Pauline and Christina aims to establish a strong alliance with the American Medical Association and continue to provide help to their members increase their revenue with the efficient handling by the company's billing expert.