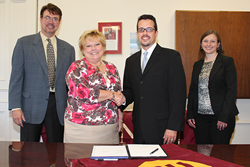 "[It's] helping our students see a really strong career path, so this is a path they can follow and then go right into their chosen field of being an expert physician and having a very successful career," ~Dr. Carolynn Masters, Gannon University
(PRWEB) October 29, 2014
Gannon University in Erie, Pennsylvania, has signed an agreement with the University of Medicine and Health Sciences (UMHS) for its graduating Premed students, allowing those that meet minimum requirements guaranteed admission to the Caribbean medical school, which prepares future doctors for careers in medicine in the USA and Canada.
After completing their first year, Gannon University students will notify Dr. Lisa Nogaj, Director of the Pre-Professional Medicine Program at Gannon, stating that they wish to be "on track" with this program. Students are provided with a "concierge-style" process and personal communication with UMHS admissions staff throughout their time at Gannon.
"[It's] helping our students see a really strong career path, so this is a path they can follow and then go right into their chosen field of being an expert physician and having a very successful career," Dr. Carolynn Masters, Provost and Vice President for Academic Affairs at Gannon University, said in an interview with Channel 12 News in Erie.
Students are in St Kitts for only 4 semesters (16 months) and then return to the U.S. to UMHS's 5th semester campus in Portland, Maine for one semester. After successfully passing the USLME Step 1 Exam, students then complete their clinical rotations and clerkships in the U.S., Canada and Puerto Rico.
UMHS extends the following courtesies to Gannon students:
1. If the Gannon student or graduate meets or surpasses minimum GPA and MCAT scores stated in the agreement, the applicant is guaranteed a seat in the UMHS 1st semester medical school (M.D.) program.
2. Assistance with academic planning for medical school - from the medical school point of view
3. Advice on preparing for the MCAT, mentally and financially
4. Priority communication via e-mail and/or Skype with any concerns
5. Skype sessions with the parents to answer all questions
6. $75.00 application fee is waived.
About Gannon University:
Gannon is a Catholic, Diocesan university dedicated to excellence in teaching, scholarship and service. The faculty and staff prepare students to be global citizens through programs grounded in the liberal arts and sciences and professional specializations. Inspired by the Catholic Intellectual Tradition, Gannon offers a comprehensive, values-centered learning experience that emphasizes faith, leadership, inclusiveness and social responsibility.
About UMHS:
The University of Medicine and Health Sciences (UMHS) is a Caribbean medical school, founded in 2007, offering a Doctor of Medicine degree program. Students begin their basic science studies in St. Kitts, West Indies, and complete their clinical training in teaching hospitals throughout the United States. UMHS prides itself on its state-of-the-art campus, small class sizes, high student retention, and excellent USMLE passing rates.
For more information about UMHS, visitors should check out the University's website or Caribbean medical school blog: the UMHS Endeavour. Prospective students, advisors and faculty can call toll free at 866-686-0380.