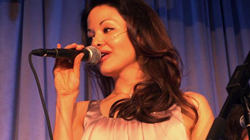 New York, NY (PRWEB) October 29, 2014
The 2nd Annual O2 Breathe Gala of the Pulmonary Hypertension Association (PHA) New York City will take place on Thursday, Nov. 6 at The Lighthouse at Pier 61 in New York City. Moved by the story of event honoree Chloe Temtchine, Bloomberg TV contributing editor and host of MYOB on C-Suite TV, Jeffrey Hayzlett will be the evening's master of ceremonies. Hayzlett will be joined on the stage by another media notable, Rolonda Watts, who's new Celebrity Crowdfunding Magazine will also raise awareness and support for the PHA.
"Chloe Temtchine is a gifted singer/songwriter who is also a pulmonary hypertension patient. She'll be honored with the Be Brave Award. Shad Azimi, Managing Partner/Cofounder Vanterra Capital LLC, will receive The O2 Breathe Award. Our Robyn J. Barst Award will go to Evelyn Horn, MD, Director of Heart Failure and Pulmonary Hypertension at Weill Cornell," said Gina Parziale, Executive Director of New York/Philly Chapter, "and we are so grateful to Jeffrey Hayzlett for donating his time to support the event and the cause."
"Chloe Temtchine's story is so moving, and her talent in the face of all obstacles is nothing short of amazing. After listening to Chloe's story and the stories of countless others, the work the Pulmonary Hypertension Association has been doing has taken a new meaning for me," Hayzlett said. "I am honored to emcee the O2 Breathe Gala and look forward to spreading awareness of the work of the PHA with Rolonda Watts in the new Celebrity Crowdfunding Magazine."
In addition to receiving one of the evening's top honors, YouTube sensation Chloe Temtchine will provide the event's musical highlight of through special live performance. On March 4, 2013, Temtchine, 30, was rushed to the emergency room due to congestive right-heart failure. After having been misdiagnosed for five years, she was finally diagnosed with severe Pulmonary Hypertension (PH). Just over a year after being handed a devastating diagnosis, Chloe debuted her new song, "Be Brave," about making the choice to live despite life's challenges. "Be Brave," available on iTunes, has been adopted by the PH community as its anthem, and pharmaceutical companies have shipped in excess of 20K copies to their clients. Chloe donates fifty percent of the song's proceeds to support PHA and its mission of finding a cure.
Amy Carlberg of BUST Magazine noted, "The title of the song reminds us of the splendid courage it takes to live day to day with a disease or a disability. The song is twangy and energetic, and springboards off the bluegrass and banjo-laden sounds that have been ruling the pop charts. Chloe Temtchine is a role model for all women, but especially those with severe illnesses, showing that it's still possible to go after the life you love."
Mr. Shad Azimi is a Managing Partner and co-founder of Vanterra Capital LLC, global private equity firm that manages assets for a diverse investor base of ultra-high net worth partners and leading institutions. Mr. Azimi has over seventeen years of global private equity investment experience. Mr. Azimi received his B.S. with dual concentrations in Finance and International Business with Honors from the McIntire School of Commerce at the University of Virginia. He earned his MBA as a Beta Gamma Sigma graduate from Columbia Business School. Mr. Azimi currently serves as a board member for Vanterra TEM Capital, Cressey & Company Healthcare Fund, Mclarty Capital Partners SBIC, BTG Pactual Brazil Investment Fund, Jacob Ballas India Fund, and Vantem Composite Technologies LLC. Mr. Azimi is also a term member for the Council of Foreign Relations. He will be honored with the first annual O2 breathe Award for his work with the Pulmonary Hypertension Association.
Evelyn M. Horn, MD is Professor of Clinical Medicine and Director of the Advanced Heart Failure, Mechanical Circulatory Support and Pulmonary Vascular Disease Programs at the Perkin Heart Failure Center at Weill Cornell Medical Center, NY and an adjunct Professor at Columbia. She has expertise in heart failure, primary and secondary pulmonary hypertension, ventricular and vascular remodeling in heart failure and pulmonary hypertension, ventricular assist devices in heart failure, and cardiac transplant. Prior to this, she has served as Director of Clinical Services for the Heart Failure Research Center; Director of Pulmonary Vascular Disease at the Center for Advanced Cardiac Care, Director of Cardiac OB High Risk as well as Co-Director of the Pediatric/Medicine Pulmonary Hypertension Center at Columbia University Medical Center/NY Presbyterian Hospital where she previously was for 22 years prior to her recruitment to Weill Cornell in November 2007. Dr. Horn will receive The Robyn J. Barst Award named for a pioneer who, for two-and-a-half decades, established herself as a leader in the field of Pulmonary Hypertension.
About the Event
Thursday, November 6th The Lighthouse at Pier 61 Cocktails and Step and Repeat photos at 7:30PM Dinner, awards and a special performance by Ms. Temtchine from 8:30 – 11:00 PM. Tickets and additional information available at http://www.O2breathe.org/nycgala or call 646-568-2068.
About Pulmonary Hypertension
Pulmonary hypertension is high blood pressure in the arteries of the lungs that can lead to heart failure. There is no cure. In 1985 patients had a 50% chance of surviving 2.8 years past date of diagnosis but, thanks to new treatments, prognosis is improving.
About the Pulmonary Hypertension Association
PHA is the country's leading organization connecting pulmonary hypertension patients, families, and medical professionals. Its mission is to find ways to prevent and cure pulmonary hypertension and provide hope for the community through support, education, research, advocacy and awareness. PHA provides free access to information on its website about pulmonary hypertension and facilitates over 240 support groups around the nation, helping many of the estimated 20,000 - 30,000 diagnosed patients in the U.S. PHA is proud to have met the BBB Wise Giving Alliance Standards for Charity Accountability. Additionally, for ten consecutive years, PHA has received the highest possible rating-4 stars-for fiscal accountability and transparency from Charity Navigator, placing PHA in the top 1% of all rated charities. 88.5% of funds raised by PHA go directly to research and our support, education, advocacy and awareness efforts. To learn more about PHA, visit: http://www.PHAssociation.org or http://www.PHAware.org.