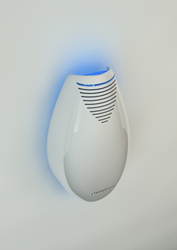 Our customers love the fact that they are so powerful and totally maintenance free, safe (ie no ozone) and silent".
Peoria, IL (PRWEB) October 31, 2014
USAirPurifiers.com is pleased to announce the addition of 2 silent, yet powerful air purifiers - The Airfree Fit 800 and Airfree T800. Don't let the size of these units fool you. They have the power to purify 180 sq ft of viruses, bacteria, and odors.
Barb Lulay, owner of USAirPurifiers.com, stated, "The Airfree units are an excellent addition for the small places that need purification like near litter boxes or bathrooms. Our customers love the fact that they are so powerful and totally maintenance free, safe (ie no ozone) and silent."
Airfree is well known for their unique, effective technology. Airfree models embrace a heat activated filtration system, using a ceramic core, that essentially cooks the air it takes in at temperatures in excess of 400 degrees Fahrenheit, removing as much as 99.99 percent of all microorganisms from the atmosphere, such as fungi, bacteria, airborne viruses, and mold spores.
As well, these are among the few models that have been proven to reduce the concentration of ozone in the air while emitting no ions. Because of the powerful purification of contaminants especially like viruses and bacteria, these purifiers are ideal for small spaces like restrooms, pantries, closets, and litter boxes.
Visit our video section to see the power of these units with the unique technology that is maintenance free and safe.
About the company:
Barb and Dick Lulay's customers are passionate about reducing their risk of disease. Their customer service and product expertise make shopping with http://www.USAirPurifiers.com and http://www.OttersDream.com an ideal experience. With a full line of natural products such as air purifiers, natural supplements, green cleaners, weight management and paraben free skin care, families find they can conveniently do their household shopping online with home delivery. As successful business owners, the Lulays offer a mentoring program for other aspiring entrepreneurs. They present exceptional marketing tools and a training program that shows how to generate immediate income as well as long term passive income.