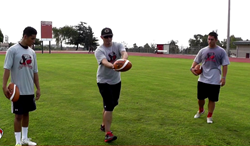 Kicking Coach Drew Vezina Working With Kicking Specialists
San Diego, CA (PRWEB) October 29, 2014
Kicking blog Michael Husted.com is featuring an interview with kicking coach Drew Vezina of Vezina Kicking Dynamics on his role as a kicking coach, his kicking business, and on being a National Camp Series (NCS) Associate according to retired NFL kicker Michael Husted author of Michael Husted.com.
"Drew joins the NCS with a wealth of knowledge," says Husted. "He has been coaching for several years and has had great success with his clients. He takes the upmost professional approach on and off of the field and wants what's best for his clients and their parents."
Go here for the full interview at Michael Husted.com
Vezina, who bases his coaching business out of Glendora, CA, attended St. Francis High School in La Cañada, CA. Like so many other kicking specialists, he was a soccer player who converted to kicking footballs. Vezina, who says he was "pretty much self-taught" was a punt and kickoff specialist during his varsity career. His longest punt was 74 yards which is still a school record.
Husted, who has worked kicking camps with Vezina, says he is impressed with his coaching.
"Being that Drew is in Southern California, I've had the pleasure to coach alongside of him for several camps and fully respect what he brings to the table," says Husted. "Having him as an NCS Associate means more kicking specialists will have the opportunity to improve their skills as part of our NCS Network."
Vezina says he joined the National Camp Series (NCS) because it gives young specialists a great platform to learn, compete and get recruited using statistics based rankings rather than subjective rankings. He says young kicking specialists can find great value in the NCS KIX Player Rating System. A rating system developed by Husted after spending 9 years in the NFL.
"Objective rankings are the only way to go," says Vezina. "It gives coaches at the next level the most reliable and realistic view of how the athletes really perform. Subjective rankings are based on opinion, so they don't give an accurate view of an athlete's performance. The KIX System is a great tool to rank athletes properly and fairly according to their grade level."
Vezina says along with the great ranking system, NCS also provides great coaching.
"The high level of coaching at the NCS camps are second to none," says Vezina. "Specialists who attend NCS camps receive professional instruction and one on one attention that won't be found at other camps. I am honored to be able to work alongside and learn from all the coaches in the NCS."
Husted says Vezina just adds to the quality of coaches provided by NCS.
"NCS Associates are some of the best kicking coaches in the country," says Husted. "NCS coaches provide the highest quality instruction to high school kicking specialists around the country and Drew Vezina is another high quality addition to our National Camp Series (NCS) Associates."
Go here for the full interview at Michael Husted.com
ABOUT THE NATIONAL CAMP SERIES (NCS):
The National Camp Series (NCS) is a nationwide network of expert kicking coaches with NFL and College level playing experience. The goal of NCS is to provide effective instruction on the field and guidance off of the field that will allow student-athletes the ability to leverage their sport to get a college education.
The NCS offers regional DIVISIONAL Camps, CHAMPIONSHIP Camps and an annual SUPER CAMP that helps student-athletes gain experience through competition, prove consistency through localized training, and provide exposure to colleges and universities through our objective evaluation camps utilizing the Kicking IndeX (KIX) Player Rating System.
The National Camp Series was developed by former NFL Kicker Michael Husted. After a successful NFL career, Michael determined that there needed to be a more cohesive, analytical, and effective process to coach, evaluate, and guide student-athletes looking to play at the next level.