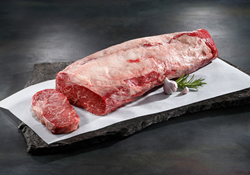 They're definitely unique and for our hands-on customers, these American Kobe beef strip loins and ribeye rolls offer tremendous value
Boise, ID (PRWEB) October 29, 2014
Snake River Farms is now offering large cuts of American Kobe beef allowing consumers to custom cut their own steaks and roasts. Known as "subprimals" within the beef industry, these substantial portions allow foodies and beef aficionados to create an artisan butcher shop in their own kitchens. There are two different items available to match the personal beef preferences of a variety of customers, a Strip Loin and Eye of Ribeye Roll. Each of these subprimals are aged 28 days for excellent flavor and texture, and hand-trimmed by a master butcher to minimize waste making it easy for the most casual chef to cut perfect steaks.
The American Kobe Strip Loin is boneless, weighing approximately 16 to 17 pounds, and is the source of New York strip steaks. The New York is one of the most popular steakhouse cuts and is highly prized for its rich marbling and flavor. The Strip Loin has a defined grain that provides a satisfying bite that is the signature of the New York steak.
The American Kobe Boneless Eye of Ribeye is a whole ribeye roll weighing approximately 10 pounds and features beautiful marbling and a rich, juicy flavor. These ribeye rolls can be cut into luxurious steaks or prime rib roasts depending on the season or occasion.
"These new artisan cuts are a direct response to customer requests," said Shane Vaughan, President of Ecommerce for Snake River Farms. "They're definitely unique and for our hands-on customers, these American Kobe beef strip loins and ribeye rolls offer tremendous value."
Snake River Farms American Kobe beef can be purchased online at http://www.snakeriverfarms.com and for more information or to order Snake River Farms products, please visit the website or call 877.736.0193.
About Snake River Farms
Snake River Farms is passionate about delivering only the finest eating experiences, a luxury once exclusively reserved for the world's most esteemed restaurants. Featured on the menus of three-star Michelin-rated restaurants, and at top retailers and restaurants around the world, Snake River Farms products include American Kobe (Wagyu) beef, Kurobuta (Berkshire) pork, and gourmet ham. The family-owned business began more than a decade ago with a small herd of Wagyu cattle from the Kobe region of Japan. The proprietary herd has developed into one of the finest groups of Wagyu/Angus cross cattle in the U.S. Snake River Farms offers a full line of American Kobe beef and Kurobuta pork products including steaks, roasts, gourmet hamburgers, hams, frankfurters and hardwood smoked bacon. All products are made with only the finest ingredients to ensure an extraordinary eating experience. For more information visit http://www.snakeriverfarms.com.