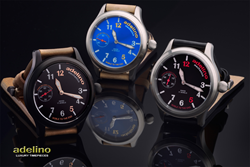 "We wanted to project style and individuality, but not lose the quality aspect of our timepieces."
Winston-
Salem, NC: (PRWEB) October 29, 2014 -- adelino Luxury Timepieces has just released its first offering of luxury watches through a program on Kickstarter. The watches are targeted to those that want a quality timepiece, but with a sense of style and individuality.
You can follow the Kickstarter program by clicking here.
"We were going after those watch enthusiasts that like something different," stated Dan Grayson, owner and founder of adelino Luxury Timepieces. "We wanted to project style and individuality, but not lose the quality aspect of our timepieces.
"Some people just seem to have 'tunnel-vision' and refuse to 'step outside the box' with their thinking," continued Grayson. "We say..........why not be different? Do you really want to go to an event or function and be wearing the same shirt, pants or dress that someone else happens to be wearing? Well, we think a watch is no different. It needs to have character, style and stand-out in the crowd."
The first line of timepieces focus on a pilot-style case, a unique asymmetrical themed dial and, of course, a real Swiss-made ETA (Unitas) 6497 hand-winding mechanical movement.
The Vintage Series will feature two timepieces....one with a stunning sunray blue dial, with gold and white colored accents, and one with a vivid black dial with red and white colored accents.
The Elite Series will first feature a timepiece that will only be available to backers on Kickstarter. The Elite '50' Limited is a stunning combination of a black sunray dial, with rose gold and silver colored accents and rose gold colored hour / minute hands.
Both the Vintage and Elite Series will feature 44mm stainless steel cases, sapphire crystals, screw-down exhibition case backs, onion-style crowns and 22mm wide leather straps with engraved buckles.
The asymmetrical dial focuses on the numbers '12' and '5', as they have much to do with life. 12:00 AM represents a 'new day', while 12:00 PM and 5:00 PM represent a usual time to break-away for lunch / dinner, associate with friends, return to family or just take time to relax.
The Bernhardt Watch Company, named recently as one of the top-7 internet boutique watch companies by Gear Patrol, will serve as the manufacturer for the project. "With Bernhardt agreeing to manufacturer our timepieces, it affords us a distinct advantage in the market," Grayson added. "The reason we approached Bernhardt in the first place was because of their established reputation in both quality construction and service."