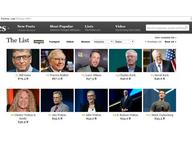 (PRWEB) October 30, 2014
MillionaireMatch.com, #1 dating site for successful and affluent singles, recently cited on its website "2014 Richest People in America." The list is comprised of the 400 richest individuals in the U.S. by net worth. It includes notable figures like Oprah Winfrey, Bill Gates, Mark Zuckerberg, and others.
Below is a top ten list of the richest individuals in the U.S:
1. Bill Gates (80.2 billion)
2. Warren Buffett (67.5 billion)
3. Larry Ellison (47.2 billion)
4. Charles Koch (41.8 billion)
5. David Koch (41.8 billion)
6. Christy Walton & Family (37.8 billion)
7. Jim Walton (36.4 billion)
8. Alice Walton (35 billion)
9. S. Robson Walton (35 billion)
10. Mark Zuckerberg (34.5 billion)
All members of the site can check out who made it on the list, and who didn't. This year, Forbes explains that "the aggregate net worth of the richest 400 Americans was $2.29 trillion, up $270 billion from a year ago."
Additional information can be found on MillionaireMatch.com's blog, which is free for all members to visit, but only premium members can see pictures and post. MillionaireMatch.com offers a connected set of forums to go along with their blog where members can discuss the Forbes richest list as well as any other topic of interest. Here is the page http://www.millionairematch.com/blog/mmsharearticle_/the_richest_people_in_america_2014_412413_1.html.
Some members listed more billionaires who are not listed in the list. One member with the username of commented "Are you sure Forbes is accurate I don't see one African, Asian, Arab surely there's one if not I'll post a new list for the less fortunate that help make them billionaire billions. "
MillionaireMatch.com was founded in 2001, and has since become the premier luxury dating site for both the affluent and sometimes notable figures. Past members of MillionaireMatch.com have included Matthew Perry and Charlie Sheen, to name two. Many famous individuals choose to remain anonymous on the site to avoid unwanted attention.
For more information on how you can join MillionaireMatch.com, you can visit their site at http://www.millionairematch.com.