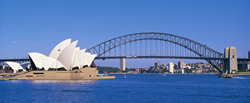 Microsoft Azure launching means the pace of Cloud ERP adoption among Dynamics users is going to increase dramatically, so partners will need the support of a global Cloud Services provider like SaaSplaza to meet the needs of their customers
Singapore (PRWEB) October 29, 2014
SaaSplaza Australia will be led by former ERP Technology Solution Specialist at Microsoft Australia, Jakub Woliński. SaaSplaza makes it simple for Microsoft Dynamics Partners around the world to 'Go Cloud'.
"Microsoft Dynamics offers the full range of deployment options but today every customer wants to know more about the Cloud, regardless of whether they're using Microsoft Dynamics AX, NAV or GP", said Mr. Woliński. "SaaSplaza offers partners an easy, flexible and secure way to build their own Cloud offering based on Microsoft Azure, and this is what makes me so excited to be leading our operations here in Australia."
Mr Woliński will report to Herb Prooy, SaaSplaza APAC Director, who is based in the SaaSplaza APAC head office in Singapore.
"Microsoft Azure launching means the pace of Cloud ERP adoption amongst Dynamics users in Australia and New Zealand is going to increase dramatically, so partners will need the support of a global Cloud Services provider like SaaSplaza to meet the needs of their customers. Jakub is well known and trusted by the Australian Microsoft Dynamics partner channel and he is also a passionate advocate for Cloud technology," said Mr Prooy.
John Leonard, General Manager, Microsoft Dynamics Australia said the establishment of a local partner presence is a great step for customers in the region. "The presence of a local partner office is a welcome move and enables our customers to receive greater depth and improved levels of service in Australia and New Zealand."