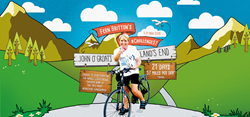 'It all started as I approached my 57th birthday this last summer. I was born in 1957 and reaching 57 years (more or less intact physically and mentally) I thought it deserved a grand gesture', Fern Britton
London, United Kingdom (PRWEB UK) 31 October 2014
TV presenter and author Fern Britton is no stranger to a challenge. But she's asking you to join her as she takes on one of her biggest yet - to raise money for a charity which carries out vital research to improve the health of women and babies.
As proud patron of Genesis Research Trust whose Chairman is Professor Robert Winston, Fern has taken part in cycling challenges all over the world. This one's much closer to home, but no less daunting.
The 57-year-old will be cycling 57 miles a day from John O'Groats to Lands End from May 1st to the 21st next year, hoping to raise at least £57,000 to fund research into the prevention of miscarriage in pregnancy. This adventure has been aptly named #Challenge57.
Says Fern: "I'm embarking on an epic adventure and I want as many people to ride alongside me for as long as they can.
"Together we can make a difference and help discover why women miscarry and end the heartbreak and tragedy that so many families endure."
It may not be widely known, but one in four pregnancies ends in miscarriage and, what's more, between one and two per cent of couples in the UK may suffer more than once, which can lead to severe psychological stress.
Women who experience recurrent miscarriage are also at higher risk of a variety of complications in a subsequent ongoing pregnancy, including preterm delivery, pre-eclampsia and low birth weight babies.
Chromosomal errors in the implanting embryo are a common finding in miscarriage, although often, the pregnancy losses remain unexplained. As a result, many affected patients receive either no treatment or are treated with a variety of drugs that have little effect.
That is why further research is required to understand the causes of miscarriage, to enable clinicians to predict which couples are more likely to suffer a miscarriage and to develop effective preventative treatments.
The money Fern raises from the #Challenge57 ride will help Genesis Research Trust fund research into miscarriage, carried out by scientists based at Imperial College London.
To sign up to this challenge or to donate, please visit the #Challenge57 website.
Note to editor
Genesis Research Trust, whose Chairman is Professor Robert Winston, raises money to finance the world class scientists and clinicians working tirelessly to help find the causes, and therefore the cures for many devastating conditions that affect the health of mother and baby. This includes stillbirth, miscarriage, premature birth, brain damage and cancer.
Some of our successes

One of the first screening programmes for cervical cancer
Early development in ultrasound technology
Early advances into placental physiology
Early development of IVF
The development of screening for fatal genetic diseases in fertilised eggs
Many new treatments to improve fertility and contraception
The prevention of premature labour
Investigation into genes involved in female cancers and embryo implantation
The reduction of brain damage in babies born in a vulnerable state