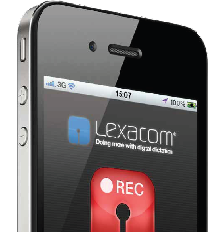 Changing to Lexacom has been massively beneficial to the team and company as a whole.
(PRWEB UK) 29 October 2014
RDArchitects in Nottingham is enjoying greater efficiency and a new sense of freedom since switching to Lexacom digital dictation, which allows them to record and send dictations anytime, anywhere.
With their previous analogue tape system, the partners at RDArchitects (RDA) would have to wait until they were in the office in order to hand over recordings to their secretary for typing, or make a special journey if the dictation was urgent. Thanks to Lexacom, they can now record and send dictations while they are out onsite or from home using their mobile phones or tablets, giving them much more flexibility.
"Lexacom has transformed the way we work," said Office Manager, Denise Gardner. "The partners can send dictations from any location at a time that suits them. It means we can deal with dictations quickly and easily, it's a much more efficient system."
RDA decided to try Lexacom's free trial when the tapes for their previous system were becoming increasingly expensive and they were continually frustrated by poor quality recordings. With Lexacom 3, the practice is able to record and prioritise accurate dictations for instant dispatch to their secretary, as well as track documents and manage workloads using the advanced reporting features.
Working with RDA marks the expansion of a new market for Lexacom. Already established as the number one choice in the healthcare market, and with a growing portfolio of legal and professional clients, Lexacom's cost effective and easy-to-use system is used by more than 2700 organisations to create over 10 million documents a year.
Lexacom's Managing Director, Dr Andrew Whiteley, said: "We are delighted to be working with RDArchitects. Although this is new territory for us, architects share many of the same challenges as other professionals when it comes to wanting to improve efficiency. Lexacom is designed to be flexible to meet the particular needs of our clients, so I am really pleased that RDA is experiencing the benefits we can offer and look forward to working with other architectural practices in the future."
Denise concluded: "Changing to Lexacom has been massively beneficial to the team and company as a whole. RDArchitects can now share internal workload and distribute resources more effectively. We would certainly recommend Lexacom 3 to other architectural practices or businesses requiring quick and efficient transcription."
For more details, visit http://www.lexacom.com or contact sales(at)lexacom(dot)co(dot)uk or call 01295 236910.
Ends
For further information, please contact:
Catherine Martin
T: 01295 236916
catherine(dot)martin(at)lexacom(dot)co(dot)uk
About Lexacom
Lexacom first pioneered digital dictation software in 1997 and it is now used by more than 2700 organisations to create over 10 million documents a year.
Lexacom 3 offers maximum efficiency, control and flexibility when dictating, transcribing and reviewing documents. Lexacom 3 offers the ability to:

Dictate wherever, whenever with the Lexacom Mobile App
Return transcriptions to author electronically for checking/approval (fully compatible with Lexacom Mobile for approval on the move)
Send attachments or add notes with your dictations
Monitor your workload with advanced management and reporting tools
Securely share information across sites, even where no network connection exists
Take advantage of automatic software updates and technical help
Choose optional voice recognition and outsourced transcription services
Lexacom provides a flexible service that can be tailored to individual clients. They offer a free, no-obligation 30-day trial to all new customers and provide excellent support through their UK technical team.