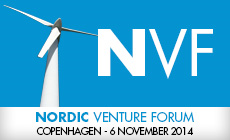 Brussels, Belgium - Copenhagen, Denmark (PRWEB UK) 29 October 2014
The most promising companies "Nordic Venture 50+" have been evaluated and selected from a pool of over 75 candidates by the selection committee to present their business in front of a jury of venture capitalists, corporate representatives and other industry experts. The best rated companies will be awarded at the end of the Forum and will continue to the European Venture Summit, in Düsseldorf in December 2014.
Selected companies:
360Visualizer Ltd, 9Solutions Ltd, ActionPlanner, ahandyhand.dk, Algorhyme A/S, Apptimate AB, ATOSHO, AutoOffer, Beeptify, BioCover A/S, Biosyntia, Bonusbay, Bownty, Brickflow, Cabforce Ltd., checkmylevel, CloudStreet Oy, Copy Me That, Danish Wood Technology A/S, EffiMat Storage Technology A/S, elvium, EmaZys Technologies ApS, Flavor Cap, Holberg EEG AS, Innogie ApS, LeadDesk Oy, Madeforit, MusicSense Ltd, MyoDynamik ApS ,Nabto, NaviDest Solutions A/S, ninjamock, Nitro Games Ltd., Noisli Ltd, Nordic Power Converters, Norsepower Oy Ltd, NuGames Studios Sweden AB, Olento Games Ltd, Paqle, Penneo ApS, Puut Technologies A/S, Selfdiagnostics OÜ, Sharingear, SiOx, Softverk, Sunride, Swipbox, Synoste Oy, TeamAuction, Thermodo (by Robocat), TickCOM ApS, UNIwise, Visitret Displays LLC, VividWorks, Woomio, WriteReader ApS.
Interested to see their pitch? Sign up as a delegate on our website: http://www.e-unlimited.com/NVF
Event Programme
The Nordic Venture Forum will be especially dedicated to strengthening the innovation potential in Europe through promoting and empowering innovative SMEs seeking funding and international exposure.
Throughout the day, participants will have the opportunity to assist to inspiring panel discussions from key players of the industry and to innovative companies' presentations, and will have plenty of networking opportunities including targeted one2one meetings.
To view the event programme, go to http://www.e-unlimited.com/NVF.
About Europe Unlimited
Founded in 1998, Europe Unlimited is a private Belgium-based champion in entrepreneurship support. Europe Unlimited is the organization behind the International Venture Club, a global collaborative network of independent, corporate and institutional investors; the TechTour, Europe's leading platform for growth stage entrepreneurs and investors; and several other pan-European initiatives in collaboration with regional and national development bodies and the European Commission.