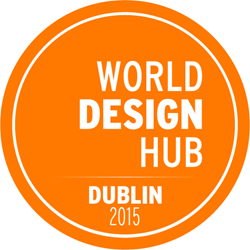 Como, Italy (PRWEB) October 29, 2014
A' Design Award & Competition is delighted to announce that Dublin, Ireland has been named World Design Hub 2015 by the International Association of Designers and the A' Design Award & Competition.
With the support of Irish Design 2015 – a year-long national and international celebration and promotion of the best of Irish design, craftsmanship and creativity – renowned designers from around the world will help to plan a varied schedule of events in Dublin. There will be exhibitions, workshops, festivals, talks and more, all based on design themes and designed to have a positive social, cultural, environmental and economic impact.
The World Design Hub designation provides the ideal platform to promote the skills and talents of Irish designers to a worldwide audience. Irish designers will engage in an exchange of knowledge with international counterparts and gain access to new business and trade opportunities.
2015 is an exciting year for Irish design and an unprecedented opportunity to celebrate Irish design at home and abroad. It is a chance to build on the success of the thriving Irish design sector, create new jobs and opportunities and realize the full potential of Irish design to contribute to economic growth.
As a part of the World Design Hub Dublin 2015 and Irish Design 2015 initiatives, Dublin will undertake an ambitious programme of design events including:

In the Making
Showcase: Ireland's International Creative Expo
IBEC Leadership Conference
Fresh Talent
Hidden Heroes - The Genius of Everyday Things
Irish Design Here/Now
A' Design Awards
The Future is Here
Universal Design Conference
Portfolio
Building on the international reputation of Ireland in design and creative fields, Irish Design 2015 and the World Design Hub events together have the potential to act as a catalyst, propelling Ireland into the international rankings of creative, innovative and design-led economies.
A detailed program of events is available at http://www.worlddesignhub.com/Dublin-2015/.
About World Design Hub
World Design Hub (WDH) is a unique designation provided by the International Association of Designers (IAD) to a single city each year. WDH designation aims to bring dozens of design events to the elected city in order to create a regional awareness for good design. The WDH Designation helps to heighten the appreciation of design but most importantly aims to ignite creative thinking, innovation as well as economic growth in the designated city.
World Design Hub designated cities promises to host and organize multitudes of design events, including but not limited to design weeks, conferences, symposiums, biennales, exhibitions, competitions, awards, workshops, demonstrations and networking meetings aimed towards designers, companies and the design oriented public audiences. The design events organized as a part of the WDH aims to increase social welfare as well as economic welfare in the designated regions, and further helps to attract the attention of international design media, designers, and design oriented tourists. To learn more, visit http://www.worlddesignhub.com.
About Irish Design 2015
Irish Design 2015 is an initiative convened by the Design & Crafts Council of Ireland (DDCol), in collaboration with partner organisations throughout the island of Ireland, on behalf of the Department of Jobs, Enterprise & Innovation (DJEI), the Department of Foreign Affairs and Trade (DFAT) and Enterprise Ireland (IE). The overall objective of Irish Design 2015 is to sustain and grow employment opportunities, sales and export potential for the Irish design sector, by encouraging investment in design as a key component of competitiveness and innovation. To learn more, visit http://www.irishdesign2015.ie.
About DDCol
The Design & Crafts Council of Ireland (DCCoI) is the main champion of the design and craft industry in Ireland, fostering its growth and commercial strength, communicating its unique identity and stimulating quality design, innovation and competitiveness. The mission of DDCol is to promote and stimulate the creative and commercial potential of Irish design and craft and to work in collaboration with strategic partners in the ongoing development and growth of the sector. To learn more, visit: http://www.dccoi.ie.
About A' Design Award & Competition
The A' Design Award & Competition was established to highlight and feature the very best design concepts, projects and ideas from across the globe, in order to create an awareness for good design practices and principles worldwide. The ultimate aim of the A' Design Award and Competition is to push designers, artists, architects and brands worldwide to come up with superior designs, projects and products that benefit society. To learn more, visit http://www.designaward.com.