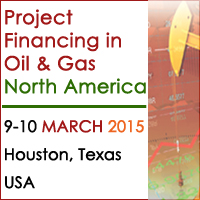 (PRWEB UK) 29 October 2014
Project Financing in Oil and Gas North America 2015 will give a comprehensive overview of the industry to date discussing project financing techniques, reserve base lending, commercial structure and risk analysis, the shale gas market, on and offshore projects, pipeline and infrastructure plus much more. This 2 day conference and interactive workshop is a must attend event for 2015 providing attendees the opportunity to hear from leading case studies and projects that have successfully secured the loans.
With representatives from across North America this conference will be a fantastic opportunity for companies within oil and gas to talk with leading experts who are currently working on projects. This is a unique opportunity to hear about PF expressed from the view of the lenders from around the globe. The diversity of companies representing all aspects of PF will enable delegates to have a broad spectrum of ideas and opinions to use on their own projects.
KEY SPEAKERS INCLUDE:
Chairman Day 1: Terry A. Newendorp, Chairman and CEO, Taylor-De Jongh
Chairman Day 2: Greg Hopper, Vice President, ICF International

Marc Rowland, Senior Managing Director/Founder, IOG Capital
Duncan Caird, Managing Director, Project and Export Finance, HSBC
Christopher Hasty, Managing Director, Head of Oil & Gas and North America Head of Natural Resources, Lloyds Banking Group
Ronald Huff, Managing Director, RCA Capital Partners
Andy Kirchin, Executive Vice President, RPS Group
Rick Hoover, Chief Financial Officer, Breitling Energy
Dewey Gonsoulin, Partner, Bracewell & Patterson LLP
Rafael Sandrea, President, IPC Petroleum Consultants
Mike Becker, Partner, Plexus Capital
Brian Thomas, Managing Director, Oil & Gas, Prudential Capital Group
Kerri Fox, Director and Head, Project Finance North America, BBVA
Terry A. Newendorp, Chairman and CEO, Taylor-De Jongh
Noam Ayali, Partner, Project Finance, Chadbourne & Parke LLP
Jeff Pendergraft, Senior Managing Director, Galway Group LP
Lisa Tonery, Partner, Norton Rose Fulbright LLP
Paul Alan, Group Chairman / Project Director, Project Executive Group & Affiliates
Plus there will be an interactive full-day post-conference workshop "Reserves and Resources – A guide to PMRS", hosted by RPS.
For more information or to register, go to http://www.smi-online.co.uk/2015pfoilgasusa39.asp
Alternatively, contact Sultan Alamro on +44 (0) 207 827 6066 or e-mail salamro(at)smi-online.co.uk
Sponsorship: contact Alia Malick on +44 (0) 207 827 6168 or amalick(at)smi-online.co.uk
Contact for media-partners: Julia Rotar, jrotar(at)smi-online.co.uk
-----END-----
About SMi:
Established since 1993, the SMi Group is a global event-production company that specializes in Business-to-Business Conferences, Workshops, Masterclasses and online Communities. We create and deliver events in the Defence, Security, Energy, Utilities, Finance and Pharmaceutical industries.
We pride ourselves on having access to the world's most forward thinking opinion leaders and visionaries, allowing us to bring our communities together to Learn, Engage, Share and Network. We hold events in over 30 major cities throughout the world including London, Paris and Singapore and to date have welcomed over 200,000 participants from 80 countries.
More information can be found at http://www.smi-online.co.uk