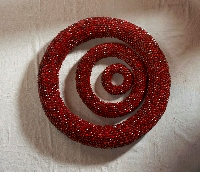 "Our wreaths celebrate the gift of nature and the elegant simplicity of the holiday spirit. " Deena Prestegard, Founder and Owner of Artful Cranberries
Freeport, Maine (PRWEB) October 31, 2014
Fresh Maine cranberries are a staple during holiday feasts this time of year but one artist in Freeport has found another use for the ruby red gems. Artful Cranberry is the only business in the world creating fresh Maine cranberry wreaths. Deena Prestegard, founder and owner, has been perfecting the art of making fresh Maine cranberry wreaths for more than two decades.
This year Prestegard has introduced her largest wreath yet called "Wonder." It is 40 inches across and it is made with more than 2500 Maine cranberries. "Wonder" is suitable for very large outdoor or indoor spaces. Other wreaths come in five sizes ranging from ten inches to 26 inches in diameter. Prestegard said, "Our wreaths celebrate the gift of nature and the elegant simplicity of the holiday spirit. We call our wreaths Unity, Peace, Goodwill, Joy, Love and the new Wonder."
The process of making the wreaths is more complicated than one might think. It takes several hours and thousands of berries to make one of the 26-inch "Love" wreaths. Not every cranberry is suitable for the wreaths so Prestegard hand picks each one with a critical eye. One by one, they are placed on the armature. When it's finished each wreath is signed and numbered. This year the company is offering 100 wreaths. "While I'm fairly efficient at creating them, it is really one cranberry at a time."
Hundreds of pounds of Maine cranberries have already been purchased by the company for this season. Artful Cranberry is working with Ricker Hill Farms in Turner, Maine. As the company grows Prestegard says they will most likely develop relationships with other growers. "In time, we hope to generate a healthy demand for Maine cranberries."
For more information visit http://www.artfulcranberry.com.
Media Contact:
Angie Helton, Northeast Media Associates
207-653-0365/nema(at)maine(dot)rr(dot)com