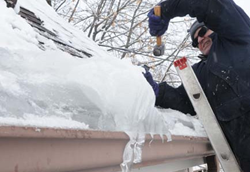 Finally we have a solution for homeowners who have not been able to get rid of ice problems. Never again should a homeowner put their life in jeopardy to get rid of ice on a roof. - Frank Farmer CEO American Metal Roofs
Flint, Michigan (PRWEB) October 29, 2014
American Metal Roofs has agreed to be the exclusive distributor for "Heated Shingle" an innovative electric radiant heat shingle used to melt snow and ice on a roofs eave edge.
Heated Shingle is a maintenance-free, low energy consumption solution that prevents ice dams from forming, protecting your home and eliminating the risk of injury associated with snow and ice removal from roofs. Heated Shingle is a UL recognized component and is 100% grounded.
"Finally we have a solution for homeowners who have not been able to get rid of ice problems. Never again should a homeowner put their life in jeopardy to get rid of ice on a roof. People commonly climb on their roof to remove snow and ice. Not only is this not safe but is a temporary fix. The real solution to troublesome ice dams is installing a system like Heated Shingle."
-Frank Farmer, Owner American Metal Roofs
Heated Shingle can be used on Asphalt and Metal Roofs:
The principle behind Heated Shingle is simple. Instead of stringing heat cables all over your roof a heated shingle is installed over the bottom courses of shingles. Unlike unsightly cables that only melt snow and ice where the cable is, Heated Shingle keeps the roof edge clear of snow and prevents ice from forming.
This shingle uses patented technologies to radiate heat and is controlled by sensors to turn on when it is 35 degrees and snowing.
Why ice dams exist

Snow accumulates on your rooftop
The snow begins to melt due to both heat from the sun and heat escaping from the attic
Melted snow runs down the roof and freezes over the colder overhang that is void of attic heat
Resulting bulb of ice on the eave edge dams the water from snow melting above.
Pooled water accumulates behind ice dams causing water leakage into the home itself, resulting in stained sheetrock, warped hardwood floors, mold, ruined personal belongings, and many other different kinds of interior home damage.
Heat Shingle is available now. For more information or to receive a no obligation estimate, consumers are urged to contact American Metal Roofs.
About American Metal Roofs:
American Metal Roofs provides residential and commercial metal roofing products and services for the Michigan Lower Peninsula. American Metal Roofs specializes in installing metal roofing from the leading manufacturers of permanent metal roofing.