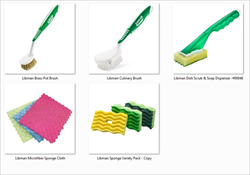 They make great gifts for all kitchen enthusiasts - from the super organized kitchen clean-freak to the 'Messy Chef.'
Arcola, Illinois (PRWEB) October 30, 2014
The Libman Company, a 118 year-old American manufacturer of cleaning products, is well-known for its brooms and mops. What most people don't realize, however, is that the company also makes an array of specialized tools for just about every room in the house, including the kitchen.
The company has introduced five new cleaning tools in its kitchen tools line, just in time for the holiday season. These kitchen gadgets are made in the U.S.A. and meet the high quality standards one can expect from a Libman product. They were designed with every cooking enthusiast in mind: from the super organized kitchen clean-freak to the "Messy Chef" we all know and love; the products are perfect for keeping the kitchen in tip top shape:
Culinary Brush
This durable nylon fiber brush is especially useful for cleaning the dirt from root vegetables and even has a potato eye remover attached. The 6 inch-long ergonomic rubber-grip handle has a hanger hole at the end to keep it in easy reach. Suggested retail price: $3.99.
Soap Dispensing Brush (Model #00048)
Save time and soap when washing dishes by only using the soap you need. The 7" long, "see-thru", contoured refillable handle is angled with a thumb holder for comfortable gripping. It can be refilled with any brand of liquid dish soap. The sponge is made with a synthetic abrasive pad and a built-in scraper. Suggested retail price: $2.99.
Microfiber Sponge Cloth
This new product combines the best of a sponge and a dish cloth. The thin sponge is covered in a pillow-weaved microfiber cloth. The durable cloth is able to lift dirt and grime without streaking and is super absorbent to soak up spills. The Microfiber Sponge Cloth is machine washable and comes in a 3-pack of attractive colors to match most any kitchen décor. Suggested retail price: $3.99.
Libman Variety Sponge Pack
The pack consists of a trio of Light, Medium and Heavy Duty sponges with a unique hole cut in the center to hang for easy drying – no more yucky sponges on the side of the sink. The sponges also have Libman's "Easy Rinse RipplesTM" – deep grooves that provide constant contact with scrubbing surface to remove all
debris. The sponges rinse clean – even messy cheese won't destroy this sponge. The Medium and Light Duty won't scratch non-stick surfaces. Suggested retail price: $3.99.
Brass Pot Brush
This is a great tool for those serious chefs. The brass fibers give a deep clean while the scrapper edge removes stuck on messes. The ergonomic rubber handle grip is durable and won't slip when wet while the hanger hole provides convenient storage. The Brass Pot Brush is excellent for cleaning stainless steel and cast iron cookware, but is not recommended for use on non-scratch surfaces. Suggested retail price: $3.49.
To check out more of Libman's cleaning products designed for the kitchen, visit http://libman.com/products.aspx#/Kitchen/.
About The Libman Company
The Libman Company is a family-owned company that has been making quality cleaning tools since 1896. The company manufactures products from brooms and mops to more specialized tools for kitchen and bathroom cleaning and industrial uses. Libman proudly manufactures most of their products in the United States, including the company's well-known Wonder® Mop. For more information about the Libman Company, please visit http://www.libman.com.
# # #
TO REQUEST PRODUCT SAMPLES OR HIGH RES IMAGES
Please contact Stacey Vaselaney at:
(216) 905-0908 or slvaselaney(at)slvpr(dot)com