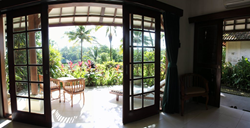 Valley View Cottages is in a breathtaking secluded setting just 15 minutes from Ubud's cultural experiences with magnificent views of Bali's sacred mountain, Mont Agung
(PRWEB) October 30, 2014
Integrated Health Yoga Therapy's (http://www.ihyt.org/) exciting and innovative Yoga Therapist Training Level 1 (http://www.ihyt.org/#!level-1-therapist-bali/c222i) in Bali, Indonesia has been moved to a new location, Valley View Cottages and Villa, in a breathtaking secluded setting just 15 minutes from Ubud's shops, restaurants, and cultural experiences and with magnificent views of Bali's sacred mountain, Mont Agung.
With nicknames such as Island of Peace, Morning of the World, and Island of the Gods, Bali offers a delicate fusion of culture, luxury, and natural beauty. In addition to its fabulous beaches that attract surfers and sun-lovers alike, the island offers a unique blend of modern spas, luxuries and shopping opportunities with ancient temples, rich artistic and cultural traditions, rugged volcanos, and blissful natural landscapes, all in a safe and incredibly friendly and welcoming environment.
Valley View Cottages and Villa offers a large comfortable space that feels both 'homey' and exotic, tucked into a deeply natural space in the cool, lush, green hills outside Ubud, with panoramic views including rain forest, rice fields, and mountains.
All rooms come with Air Conditioning, Hot/Cold Shower, Mini Bar, and complimentary WiFi. At the centre of the property is a swimming pool overlooking the valley, and most of the deluxe rooms and cottages encircle this area, sharing in the spectacular views. An on-site day Spa offers a wide range of massages, baths, scrubs, manicures and pedicures. Fresh vegetables from the venue's Organic Garden are used in the dishes prepared by the restaurant.
The venue also provides a 3 hour Village Tour as well as a free shuttle to the centre of Ubud 3 times daily, where visitors can wander down village lanes among traditional artists and experience the friendliness and unique culture of the Balinese people. Accommodations include round trip airport transportation to and from the retreat.
Timeline for the Yoga Therapist Training is as follows: January 1st, 2015: Application-Registration opens; January 15th: Early Bird Discount Deadline (50% accommodation Deposit with Registration); February 1st: Regular Tuition Payment Deadline; April 1st: 50% Balance of Accommodations; Program Dates: Semester 1 April 16-30, 2015 (arrival Apr 15/departure May 1); Semester 2 October 17-30, 2015 (arrival Oct 16/departure Nov 1).
Integrated Health Yoga Therapy is a driving force in the evolution of therapeutic yoga, bringing the best of health care and yoga together with a highly experienced, international faculty of leaders in their respective fields (http://www.ihyt.org/#!faculty/cjg9).
IHYT offers courses that provide an excellent complement to the resumes of Health Care Professionals in addition to future Yoga Therapists. IHYT has also been approved for CEU's for the College of Massage Therapists of Ontario. With Yoga Therapy's increasing recognition and usage within the scientific and medical communities, IHYT's comprehensive curriculum, integrating ancient yogic tradition with rigorous modern science and medical practice, prepares students for a rewarding career as a competent and skilled Yoga Therapist. Upon successful completion participants will receive a Yoga Alliance recognized certificate and may choose to continue with the Level 2 Advanced Yoga Therapist Training (http://www.ihyt.org/#!500-lev-2-yoga-therapist-train/cbps)
For those seeking a comprehensive foundation in Yoga Therapy combined with that 'vacation feel' of adventure and mystery, IHYT's Yoga Therapy Training Level 1 in Bali provides excellent value, world-class instruction, and an opportunity to access time-honoured traditions in an ancient and breathtaking land.
More information on IHYT trainings and programs can be found at (http://www.ihyt.org/#!training-programs/cnnj).
About Integrated Health Yoga Therapy
IHYT is a yoga therapy school for a wide range of health professionals whose practices might benefit from the skill-sets and philosophy underlying therapeutic yoga. Yoga therapy is becoming more and more recognized and utilized by the medical-scientific community as a safe and effective complementary therapy and treatment in a wide range of conditions. IHYT offers a carefully selected curriculum of evidence-based educational programs taught by faculty who are leaders in their respective fields, as outlined on our website at http://www.ihyt.org/