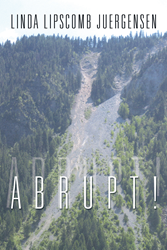 The worst time to learn about the damage we're doing is when it's already too late.
SPOKANE, Wash. (PRWEB) October 31, 2014
As fracking and agriculture continue to contaminate water supplies, author Linda Lipscomb Juergensen believes that educating society is the key to preventing water crises from developing.
Juergensen's fast-paced novel "Abrupt" focuses on the issues of water scarcity and contamination, in addition to the dangers of being unprepared for an upcoming shortage. As the protagonist suddenly finds herself without a supply of clean water, readers will understand the need to protect and use water efficiently.
As a former teacher, Juergensen believes "Abrupt" can be a catalyst for teachers discussing water crises.
"We can no longer take water for granted," Juergensen said. "This is an excellent time for young readers to become aware of the environmental issues we face. The worst time to learn about the damage we're doing is when it's already too late."
"Abrupt"
By Linda Lipscomb Juergensen
ISBN: 9781499043327, 9781499043334, 9781499043310
Hardcover, retail price: $29.99
Softcover, retail price: $19.99
E-book, retail price: $3.99
Available on Amazon, Barnes & Noble and Xlibris
About the author
Linda Lipscomb Juergensen advocates for clean water and has taught as a kindergarten through eighth grade teacher for more than 30 years. She enjoys exploring the Pacific Northwest as she camps, rides horses and spends time with her Border collie. Juergensen received a bachelor's degree from Central Washington University, a master's degree from Eastern Washington University and a technical writing certificate from the University of Washington.
# # #
**FOR IMMEDIATE RELEASE**
For review copies or interview requests, contact:
Craig Cainkar
317.602.7137
ccainkar(at)bohlsengroup(dot)com