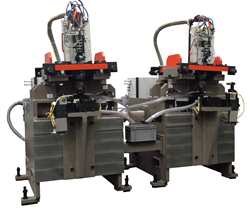 The FWS Series Friction Weld Systems are a cost-effective, repeatable welding solution that reduces cycle time and defects as compared to traditional joining techniques.
Coldwater, Ohio (PRWEB) October 30, 2014
Coldwater Machine Company, a leading engineering solutions company that manufactures and integrates precision equipment and tools for multiple industries, has announced its FWS Series Friction Weld Systems, developed by the company's Solid State Joining Center. The Coldwater Machine FWS Series, which is in production at automotive OEMs and Tier One suppliers, is recognized for being a cost-effective, repeatable, robust spin welding solution that reduces cycle time and defects when compared to traditional welding or joining techniques.
FWS Weld Systems use a Direct Drive approach, where one work piece is stationery and the other piece is rotated on a spindle at a constant speed by an electric motor. Coldwater Machine's systems are designed to precisely control rotational speeds with parameters from 2,000 – 23,000 rpm as well as forging forces of 335 – 12,000 lbf. The systems can be designed with a maximum weld area of 0.992 in2 (640 mm2). Coldwater Machine designs each system to fit the individual application determining rotational speeds, cycle times, and forging forces for each joint based on the material composition, part configuration and contact surface area of the specific parts to be joined.
The FWS Weld Systems are offered as stand-alone vertical or horizontal machines for integration into a work cell or as part of an automated processing line. Coldwater Machine can provide production quality weld test samples for evaluation using customer provided workpieces to prove out feasibility.
Friction welding uses rotational friction to heat the materials along with pressure to create a solid state welded joint. It's a quick process that occurs below the melting temperature of the materials. The ability to achieve high rotational speeds plays a critical role in achieving enough heat input quickly enough to soften the material to a plastic state. It is well-suited for applications involving materials such as steel, aluminum, cast or sintered materials, ceramics with mixed metal connections and dissimilar metals, which are unsuited to conventional welding. Other benefits of a friction weld system include faster weld times, higher quality joints with small heat affected zones (HAZ), consistency in weld duplication, and environmentally cleaner and safer with no spatter, smoke, radiation or shielding gasses.
For more information on Coldwater Machine's Friction Welding solutions, visit http://coldwatermachine.com/services/spin-welding or watch our videos.
Coldwater Machine Company is a leader in the design, build and integration of specialized equipment for discrete manufacturing with extensive precision-machining capability primarily serving companies in the automotive, aviation, aerospace, appliance and energy industries that are producing products requiring tight tolerances. With over 50 years' experience, the company's key competencies include precision machining and assembly, engineering support, design and build of specialized manufacturing equipment, and solid-state welding/joining systems.