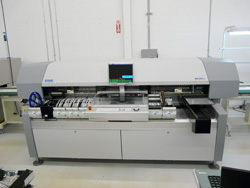 Ronkonkoma, NY (PRWEB) October 29, 2014
Advanced Manufacturing Service is excited to announce their new equipment with the development of a new surface mount technology assembly line. With this new technology, Advanced Manufacturing will now have higher degrees of versatility and upgradeability.
One of the new machines is Mycronic, or MY200, which now allows Advanced Manufacturing Service to have a fully integrated solution that allows them to work at virtually any volume. MY200-series contains new and advanced technologies that give customers higher throughput, better accuracy and improved line utilization.
Linescan Vision System 3 is a new improvement that will include a new high-performance component inspection and positioning system. HYDRA 4 is a new high-speed mount head that allows for highly accurate placement of the latest component technologies. ASYS XACT 4 screen printer that can perform any kind of production demands within the electronic industry and provides an ease of use and flexibility that are unmatched.
Advanced Manufacturing Service also purchased the Heller Oven 1707, the SMT Reflow Soldering Oven and the Heller 1707 Mark III Reflow System. This equipment allows for rapid response times and precise temperature controls, resulting in uniformity and high performance. The SMT process is now fully inline.
For more information about Advanced Manufacturing Service and their new equipment, visit their website at http://advancedmfgserviceli.com/.
About the company:
Advanced Manufacturing Service is an electronic contract manufacturing service provider committed to helping OEMs manufacture their products at a competitive price. Advanced Manufacturing Service's customers include manufacturers of industrial controls, medical devices and equipment for laboratories, surveillance and communication. What truly sets them apart is their responsiveness to customer needs and requirements. Their goal is helping customers succeed. Advanced Manufacturing Service's quality system is ISO 9001:2008 certified, and all products are proudly made in the USA. They cater to manufacturers in the following areas: industrial controls, medical devices, laboratory equipment, video surveillance, LED technology, consumer electronics, aerospace electronics and communications equipment. For more information, visit their website at http://advancedmfgserviceli.com/.