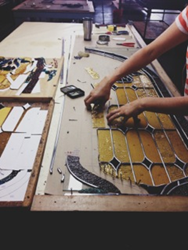 (PRWEB) October 30, 2014
Willet Hauser Architectural Glass recently announced the completion of a two-year long stained glass window project for St. Bernadette Catholic Church in Springfield, Virginia. The project, which began in 2012, included the adaptive reuse of antique windows as well the fabrication of a new set of stained glass windows. The last of the windows were completed and installed in September.
The project brought new life to three individual antique stained glass windows St. Bernadette Catholic Church had purchased from churches that had previously closed. Once purchased, the windows were transported to Willet Hauser's studio in 2012, where they were underwent restoration work. Two of the windows, planned for the church's sanctuary, were fitted with custom fabricated wooden light boxes. They were installed later that year in the church, where they flank the altar. Depicting St. Joseph with the Christ Child and the Apparition of Our Lady of Lourdes to St. Bernadette- the church's namesake, the windows reference St. Bernadette Catholic Church's deep devotion to the Virgin Mary.
Once the Sanctuary windows were complete the studio began work on Phase 2 that same year. Phase 2 involved the third pre-owned window, depicting St. John the Baptist, planned for the church's Baptistery. That year and into the next, the studio worked to develop a design for a new window that would incorporate the old glass at center. The end result is a monumental work measuring nearly 14.5' wide by 14' high. The original St. John the Baptist medallion window was placed in the center of the window. The newly designed glass was created to emulate this 100 plus year old Victorian style medallion window. At the top, custom fabricated medallions depicting symbols of Baptism, the Virgin Mary, and St. Bernadette further reference the church's Marian devotion.
The two-year long project came to a close when the final Baptistery windows were installed last month.
For more information on Willet Hauser Architectural Glass, please visit http://www.willethauser.com or call 800-533-3960.
About Willet Hauser Architectural Glass:
Originally founded in 1898 under the name of The Willet Stained Glass and Decorating Co., the nation's leading stained glass window company known today as Willet Hauser Architectural Glass, Inc., continues to design and restore beautiful stained glass window creations. Under the leadership of the Hauser family, the studio grew from a small organization of artists, designers and craftsmen into a premier stained glass architectural windows firm. Combining both timeless traditions and modern techniques to their craft, Willet Hauser's works of art have been commissioned by prominent associations and organizations throughout the United States, including the National Cathedral in Washington, D.C. to the Cathedral of St. Mary of the Assumption in San Francisco and even West Point Military Academy. For more information, please visit http://www.willethauser.com/.