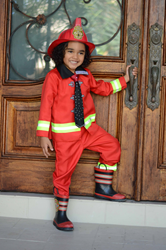 We want to honor the fire fighters for their selfless service. We organized gift baskets as surprise appreciation gifts to take to the station to reward their service.
Pompano Beach, Florida (PRWEB) October 30, 2014
Timothy, InstaKNOT's 4-year-old CEO, plans a surprise Halloween visit to Pompano Beach firefighters, showing that you are never too young to give back to your community.
Timothy met firefighters Tracey and Carl at the 2013 Santa Arriving By Helicopter event, sponsored by Galuppi's Restaurant and the Pompano Beach Chamber of Commerce. Tracey gave Timothy a special tour inside and outside the fire truck, letting Timothy wear his real fireman's hat, and extending an offer to visit Station #24. Timmy was so excited, he spoke of nothing but his fire truck experience during the whole ride home.
"The fire fighters were so kind to our 4-year-old CEO that we decided to take them up on their offer to visit, and to return their kindness and dedication to our community by giving them gift baskets," said InstaKNOT VP Marcia McManus, Timothy's mother. "We want to honor them for their selfless service. We organized gift baskets as surprise appreciation gifts to take to the station to reward their service."
The gift baskets include items donated by generous sponsors. "We are very excited the concept was also embraced by our sponsors' who were very gracious and donated gift items totaling over $2,500 in value for our First Responder Team," Marcia said. "This is a gift that keeps on giving, because some items can be used by the fire fighters' families."
Gift baskets include the following items from sponsors:
1. InstaKNOT and Ties: You no longer need to know how to tie a tie -- 30 seconds or less for the perfect knot and tie length. No more short ties! Tall, short, skinny or not, this tie is fully adjustable and fits everyone. As seen on the Hollywood celebrities at red carpet events. http://www.InstaKNOT.com
2. Giorgio Bellini designer shirts to match the InstaKNOT ties, also seen on celebrities
3. Larry's Limo Service. The 4-year-old CEO will deliver the gift baskets to the fire fighters in glamour and style, courtesy of Larry's Limo Service. This will be Timothy's first limousine ride and we are grateful to Larry's Limo Service for making our trip very special http://www.larryslimo.com
4. Isle Casino Lunch Buffet vouchers for each fire fighter and a guest. There is an array of mouth watering dishes to choose from and wine is included in this gift donated by Isle Casino, Pompano Park, Florida pompano-park.isleofcapricasinos.com
5. Inspire Travel Luggage, a dedicated toiletry luggage accessory for transporting full-size grooming products. Packing is very efficient for the smart traveler. http://www.inspiretravelluggage.com
6. Balloon Blast: Patented design makes any balloon into an instant high-flying kite for lots of fun with the family and friends. http://www.BalloonBlastToy.com
7. Cinch to Hang, an easy and convenient way to store and organize all the gear and equipment off the ground and in a safe location. http://www.cinchtohang.com
8. Dude Wipes: Fully flushable and biodegradable wipes loved by Chicago Firemen, donated by http://www.dudeproducts.com.
9. Act Like a Success, Think like a Success by Steve Harvey (book). Marcia was very inspired and impressed by Steve's interview on Oprah Life Class on OWN recently. She identifies with the Vision Board concept and goals he spoke about. She also made a Vision Board seven years ago in Kandee G's Vision Class at Amerijet Airline. This guides her to pursue her personal and professional goals. Marcia bought several of copies of the books and will include it in the firefighters' gift bags to continue sharing the inspiration and principle to others.
InstaKNOT was invented because Marcia wanted Timmy to wear a tie to the photo shoot. "I saw Jennifer Aniston's GQ photo cover where she wore only a tie; it inspired me and I wanted to duplicate the look for my son in his diaper," Marcia said. "When I got to the photo studio I didn't know how to tie a tie, and the photographer needed to help me. Several weeks later, after speaking to friends, I found out that a lot of guys have the same problem. I decided to find a way to resolve this issue and make it easier for the end wearer."
It's not just 4-year-olds who need help with their ties. "A lot of men don't wear ties all the time, and then when they have to wear one, they find it a difficult task," Marcia explained. "Another perfect Insta-Knot customer is the older gentleman and young adults learning to tie a tie. InstaKNOT makes it easy for them."
A year later, InstaKNOT is a resounding success, with actors, models, and other celebrities wearing them at Red Carpet events in Hollywood. "Our Airline InstaKNOT tie design can be found at The Airplane Shop. Tally-HO and Prom, wedding event, and special occasion Insta-Knot combinations are at The Tuxedo Warehouse, and on our website," Marcia said.
What is 4-year-old Timothy's role as CEO of InstaKNOT ? Until he reaches legal age, Marcia will be making all the company decisions. "At this time he's the company spokesmodel, our goodwill ambassador, and the face of InstaKNOT," Marcia said. "As America's youngest entrepreneur, Timothy is rebuilding America by creating jobs in the retail environment. We are proud to take part in projects that give back to the community including the Halloween fire fighter gift bags. Also a percentage of each InstaKNOT purchased goes to the self funded, Timothy Perseverance Scholarship held by Greater Miami Aviation Association where two Aviation students are awarded the scholarship each year."
Contact Marcia McManus at 561-907-8382 to learn more about InstaKNOT or the Gifting Event.