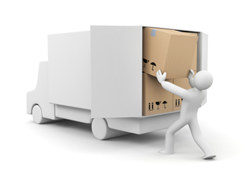 Atlanta, GA (PRWEB) October 30, 2014
AQuickDelivery, a recognized leader for same-day delivery, messenger and transportation services announces less-than-truckload services. The announcement comes in an effort to improve visibility of the courier's transportation products and to expand its current client base within the freight industry. The Atlanta courier strives to be a one-stop courier of transportation and freight solutions throughout the US.
The LTL product is located within AQuickDelivery's "Services" page on the courier's website. AQuickDelivery's LTL delivery includes a number of benefits for their clients, including a network of over 20 quality LTL carriers and freight carriers that are fully insured. These carriers actively compete within their transportation lanes for AQuickDelivery, resulting in competitive rates for businesses and residential customers. Customers are also able to click on a link for a free LTL services demo.
Customers can initiate a LTL quote request via AQuickDelivery's online customer support form or by phone. The form offers easy, immediate access to experienced and first-time LTL users that would like to receive a quote. The online quote request form asks the customer for their contact information and a description of the services needed. An LTL representative will promptly respond to the online request and contact the customer to receive further specific quote information. For an accurate LTL quote, AQuickDelivery will request the origin and destination zip codes, the number of pallets, an NMFC number, weight, is the pallet stackable, pick-up date, and other additional information.
An AQuickDelivery specialist will send an LTL quote response to the customer via e-mail or fax. To proceed with the service, the client simply signs the quote document and then submits it back to the specialist. All Less-than-truckload quotes expire after 48 hours of the customer's receipt. Customers can also call AQuickDelivery 24/7 regarding any questions relative to tracking their current shipment, address adjustments and various delivery discrepancies.
AQuickDelivery is a premier same-day courier offering transportation and distribution services. From small packages to palletized freight, AQuickDelivery delivers fast. As a leader in the courier industry, its' goal is to perform optimal courier logistic solutions and superior customer service every time. The courier service provides same-day delivery successfully for over 1,500 clients, including Fortune 500 companies throughout the Georgia area.