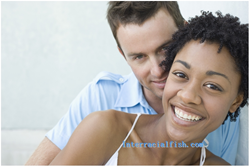 Blackwomenwhitemen.dating-Love me, love my color.
Los Angeles, California (PRWEB) January 08, 2015
Times have changed and today more and more people are going online to find interracial love. Statistics show that in the past few years the number of people who went online looking for interracial relationships has increased. Also, right now, the popularity of interracial dating sites is at its peak. Most people come to dating sites looking for a stable relationship, and, if recent findings are any indication, the majority won't be disappointed.
A recent survey conducted by blackwomenwhitemen.dating asked users about the advantages interracial dating sites bring them. The result of the survey disclosed that greater opportunities and convenience were two of the biggest factors that draw users to interracial dating. Thousands of users being active on a dating site offers a better chance to meet a like-minded person. Furthermore, such sites allow a person to chat with someone miles away from him or her. Another big advantage cited by users was that, thanks to such sites, they can first learn more about a person they are interested in before they decide to meet in person. Better still, one can initiate an interracial relationship or chat with their partner right from one's living room or anywhere else, without going anywhere. All that is required is internet connection.
"Statistics confirm that there has been a definite increase, and not a small but significant increase, in the usage of interracial dating sites," said Elena, marketing of blackwomenwhitemen.dating. "Most people who use interracial dating sites are not just for sex. What they are really interested in is finding that special one with whom they can have a meaningful relationship. We're happy that most of these users are in fact able to find their special friend here."
The increase in the popularity of interracial dating can be gauged from a book published by a sociologist, George Yancy, from north Texas. He found that more than one-half of the population (above 18 years) in the US has been in an interracial relationship before.
Of course, one can still hear some opposite views on this matter. Nevertheless, there is no denying that interracial couples today are greater in number than ever before. They are living testimony to the famous old-age saying: Love knows no boundaries.