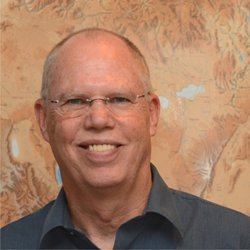 With the world facing ever increasing water resources challenges, JAWRA is poised to contribute toward solutions. --Parker J. Wigington, Jr., incoming JAWRA Editor-in-Chief
Middleburg, VA (PRWEB) November 03, 2014
The America Water Resources Association (AWRA) is pleased to announce that Dr. Parker J. Wigington, Jr. has been named the new Editor-in-Chief of the Journal of the American Water Resources Association (JAWRA) effective January 1, 2015.
"I am very excited to be the new JAWRA Editor-in-Chief," said Wigington recently. "Because of its multidisciplinary nature, JAWRA plays a distinctive role in communicating technical information on water resources science and management. The journal's wide range of articles encompass the biophysical and human dimensions of water systems. With the world facing ever increasing water resources challenges, JAWRA is poised to contribute toward solutions."
Wigington has an extensive publication record dealing with the influence on human activities and natural processes on watersheds and associated aquatic ecosystems. During his 28 year career with the U.S. Environmental Protection Agency Office of Research and Development, Wigington led a wide range of interdisciplinary research efforts ranging from the effects of acidic deposition on aquatic ecosystems to connectivity within stream and river systems. He is currently a research and consulting hydrologist residing in Redding, CA. He is also a courtesy faculty member in the College of Earth, Ocean, and Atmospheric Sciences at Oregon State University.
JAWRA's retiring Editor-in-Chief Ken Lanfear had this to say about the journal and Wigington, "It's been a privilege editing JAWRA for these past nine years, and one of my goals was to leave JAWRA in good hands. I feel Jim Wigington is the perfect choice to move our fine journal forward."
With his official retirement looming, Lanfear leaves behind big shoes to fill. During his tenure, Lanfear took JAWRA from a .86 Impact Factor to a 2.074. As a respected and highly regarded member of not only the AWRA community but the wider water resources management community, he will be greatly missed.
To read a recent interview with Wigington about his goals for JAWRA, visit the AWRA Blog.
About JAWRA
The Journal of the American Water Resources Association (JAWRA) is a rigorous scholarly publication that focuses on emerging scientific, management, and policy issues related to multidisciplinary aspects of water resources. With a 50-year history, JAWRA publishes high quality journal articles from a wide range of disciplines for a multidisciplinary audience. The current Thompson Reuters Impact Factor of 2.0 reflects the growing influence of JAWRA within the water resources publishing community. For more information visit the JAWRA website.
About AWRA
Since 1964, American Water Resources Association (AWRA) has been dedicated to the advancement of water resources management, research and education, as well as a balanced approach toward solving water resources challenges. AWRA's membership is comprised of professionals who share a common interest in working and learning across a wide range of disciplines focused on water resources policy, practice and education. For more information visit http://www.awra.org.