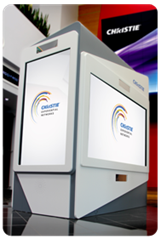 Delivering superior, content-driven experiences for the cinema industry.
Hollywood, Florida (PRWEB) November 05, 2014
Christie® announced the launch of its new media initiative, Christie Experiential Networks® (CEN). Based on the theme "From the Street to the Screens™," the network features unique digital destinations such as the Christie double-sided digital standee, the experiential video wall and the hero screen; some of which were introduced during ShowEast, Oct. 27-30, in Hollywood, Florida.
"Christie was at the forefront leading the conversion of film to digital projection, and we are today the first to deploy a refined experiential strategy that will transform the way exhibitors, brands, agencies and studios connect with moviegoers across the country," said Kevin Romano, senior director, Global Media, at Christie. "From projection mapping to mobile, to augmented reality and gesture interactions, we are committed to delivering superior, content-driven experiences for the cinema industry."
New Role, New Business Model
Christie Experiential Networks (CEN) adds a new layer to how Christie brings value to the cinema industry. With this new initiative, Christie becomes a network operator that supplies technologies and digital content to exhibitors' lobbies. Christie provides standard track installations at no cost to the exhibitor and can also provide personalized concepts for a competitive investment. CEN's team of media specialists will manage advertising sales, in a revenue-share model with the exhibitors.
Experiential, Mass Media Style
From a brand and studio perspective, Christie's new CEN provides access to a large-scale network of refined, multi-platform digital experiences for the consumer. Technologies and content strategy will, for example, enable studios to transform a trailer into a 4K gesture experience; or brands to create an interactive experience from an app, such as a 30-second ad or a static poster. Then the experience can be distributed on a national scale in top designated market areas. A variety of experience options are available for brands and studios.
More Entertainment Value Means More Guest Engagement, and More Revenues
CEN's mission is to create new revenue streams for exhibitors, deliver refined media opportunities for brands and studios, and offer high-impact digital experiences for the consumer. Denys Lavigne, senior director, Experience Strategy and Creative Services, at Christie: "It is time that exhibitor lobby spaces become a legitimate part of the cinema experience and growth strategy for the industry. Experiential is growing everywhere; brands and studios are embracing it, and consumers expect it. With similar experiential projects that we've created for other industries, we observed that when customers are engaged there is more dwell time, which means higher brand impact, and a better overall experience."
The Christie Experiential Networks programming will also integrate promotional elements such as discounts, special promotions and giveaways. Romano added, "Guests who interact with the digital displays will gain a direct and immediate benefit that makes their experience that much better." These opportunities extend to studios, product marketers, advertisers, and exhibitors, who will be showcased on the new network as well as on the legacy systems Christie plans to integrate as one high-impact digital media within the exhibitor environment.
From the Street to the ScreensTM — a 360-Degree Perspective
Christie is delivering this new media initiative as part of its 360-degree digital solution capabilities. Sean James, vice president, Global Professional Services, at Christie, said "The industry might not be fully aware but Christie has developed a solid track record over the past five years in delivering next generation digital signage applications for our clients and partners. Our recent acquisition of Arsenal Media reinforced our unique position as a total solutions provider from strategy, hardware and software, to content, enterprise-level network operations center, maintenance and ongoing technical support. Now, with the addition of our media sales services, headed by Kevin Romano who has played a key role in the development of brand advertising in cinema, we feel we have built the ideal team to accompany the cinema industry in this next phase of innovation and growth."
In this context, Mr. Lavigne will share his knowledge of digital planning, content and technology on the 'Monetizing Your Digital Investment-New Technologies to Serve the Exhibition Community' panel, scheduled for Tuesday, October 28, 8.30 a.m. – 9.30 a.m.
About Christie
Christie Digital Systems USA, Inc. is a global visual technologies company and is a wholly-owned subsidiary of Ushio, Inc., Japan. Consistently setting the standards by being the first to market some of the world's most advanced projectors and complete system displays, Christie is recognized as one of the most innovative visual technology companies in the world. From retail displays to Hollywood, mission critical command centers to classrooms and training simulators, Christie display solutions and projectors capture the attention of audiences around the world with dynamic and stunning images. Visit http://www.christiedigital.com.
Follow us:
Facebook.com/christiedigital
Twitter.com/christiedigital
"Christie" is a trademark of Christie Digital Systems USA, Inc., registered in the United States of America and certain other countries.
Other company and product names may be trademarks or trade names of their respective owners.​​​​