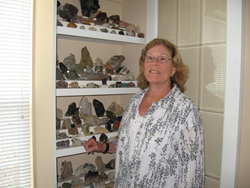 Martha Johnson's trip to Scotland in 2008 changed her life.
Suffolk, VA (PRWEB) October 30, 2014
Martha Johnson returned from Scotland to her home at Lake Prince Woods retirement community in early September and is set to go back next month. But Martha doesn't go as a tourist, she goes as a volunteer to an archeology site older than Stonehenge.
Martha Johnson was an earth science teacher and administrator at Deep Creek Middle School for many years. Her school hosted a student exchange with a school in Scotland. When she took her Virginia students to visit Scotland, she stayed with the rector of the school and her husband. During her visit, they took her to visit the Orkney Islands off the northern tip of Scotland. Since that first visit to the Orkney Islands in Scotland in 1981, she has known there was something special about them. But her visit there in 2008 changed her life.
While there, she met with the director of the archaeology excavation at the Ness of Brodgar and director of the Orkney Archaeological Research Centre. When he discovered she had minored in archaeology in college and had been on paleontological and archaeological digs she was immediately welcomed as a volunteer.
Martha noted that the structures uncovered during excavation range in age from approximately 5,300 to 4,000 years old. "This area was in use for 1,000- plus years and not many of our current structures can make that claim" she added . Although archeologists are not certain of all the aspects of life within the Ness of Brodgar Complex, they know it contains some of the finest Neolithic stone structures in Northern Europe, has produced Grooved Ware pottery the equal of any in Britain, and the stone tools recovered exhibit a superb level of craftsmanship.
"The fact that their pottery has so many different patterns and is of such a high quality shows the people at the Ness of Brodgar had the luxury of time; they didn't spend all their time looking for food and shelter", she said.
The archaeological site, sometimes referred to as the Stonehenge of the North, is only open for six weeks each year due to financial constraints, but during that time students come not only from Orkney's University of the Highlands and Islands but from many countries and several continents to participate in the fieldwork. All of the 18 Orkney Islands are well-known for their Neolithic archaeology. In fact, one of the oldest stone circles and the third largest in Great Britain is in Orkney.
Martha's love of "old things" was inherited. Her father was a hard rock geologist and her grandmother was a mineralogist. Martha's Lake Prince Woods home is filled with rocks and polished stones from both her father and grandmother. Almost every piece in her home has a story connected with it.
Martha moved to Lake Prince Woods early in 2013 and chose the continuing care retirement community because it provided her with the flexibility and security to be a resident of Suffolk, VA and Kirkwall, Orkney, U.K. The variety of residential options available at Lake Prince Woods and the beautiful wooded acreage were the biggest draws for her to relocate to Suffolk. It is a move she does not regret.