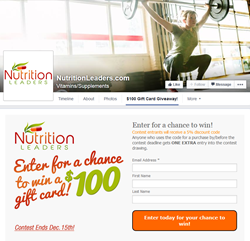 One lucky winner will then be selected at random to receive a $100 gift card to NutritionLeaders.com.
Indialantic, FL (PRWEB) October 30, 2014
Nutrition Leaders, a popular online retailer of sports nutrition products, vitamins, supplements, weight loss aids, and more, is currently hosting a sweepstakes on its official Facebook page. The sweepstakes, which is already underway, is open to U.S. residents age 18 and over, and will run until midnight on December 15, 2014. One lucky winner will then be selected at random from all eligible entries to receive a $100 gift card to NutritionLeaders.com.
Nutrition Leaders' managing director Kimba Vasquez views the giveaway as a thank-you to customers for their loyalty during the company's recent merger with Physical Addictions.
"Our customers have been incredibly supportive through all the changes, so we wanted to do something in return to show our appreciation," says Vasquez. "Holding a gift card giveaway right before the holidays is a fun way to get our message across."
Entering the Nutrition Leaders sweepstakes is fast and easy. The first step is to visit the company's official Facebook page at http://www.facebook.com/NutritionLeaders and click on the "$100 Gift Card Giveaway" icon in the lefthand application panel or in the navigation bar under the cover photo. Then, on the next page, simply type in your name and a valid email address into the correct fields and click the "Submit" button.
A mobile-friendly link is also available for smartphone and tablet users, and can be found in the page's recent posts about the contest.
As an added bonus, all sweepstakes entrants will receive a special coupon code good for 5% off their next purchase at NutritionLeaders.com. The code will appear onscreen upon successful submission of each sweepstakes entry form. Moreover, customers will receive one extra sweepstakes entry if they use the promo code for a purchase before the December 15th deadline.
The sweepstakes winner will be notified via email, and results of the giveaway drawing may also be published on Nutrition Leaders' official Facebook, Twitter, and Google Plus feeds. Nutrition Leaders cannot provide any other type of notification, so entrants are encouraged to check these resources after the sweepstakes closing date.
For more information about this $100 Gift Card Sweepstakes or to submit an official entry, please visit http://www.facebook.com/NutritionLeaders today.
About Nutrition Leaders: For nearly 25 years, Physical Addictions has been the only store in Brevard County that specializes in sports nutrition, including vitamins, muscle builders, and hard to find products, including fat burners and more. As of 2014, Physical Additions has merged with the online store NutritionLeaders.com, and remains dedicated to providing an unmatched sports nutrition shopping experience. The friendly knowledgeable staff is always ready to help with any of your health and fitness goals.