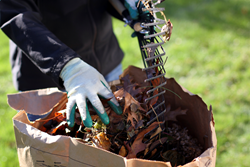 Lincoln, RI (PRWEB) October 29, 2014
As the leaves continue to fall this autumn, many people will take to their yards to do some raking. But raking can result in achy, pulled or even torn muscles, and Amica Insurance is offering tips to help keep you and your family members safe.
According to the U.S. Consumer Product Safety Commission, more than 38,000 Americans suffered from raking-related injuries in 2012. That's why Amica is sharing the following tips from the American Academy of Orthopaedic Surgeons:

Keep a straight back while raking, and turn your whole body to avoid twisting the back.
Take short strokes to cut down on overextension injuries.
Bend at the knees and squat to pick up piles of leaves or to lift garbage bags or bins. Don't throw bags of leaves over the shoulder or to the side, since the twisting motion can strain the back.
Make sure the rake is the proper height and weight. If it's too short, it could strain the back, and if it's too heavy, it will put added stress on the neck and shoulders.
To prevent blisters, wear gloves or use rakes with padded handles. Also, wear shoes with slip-resistant soles to protect against falls.
Don't overexert yourself too quickly, especially if there is a lot of raking to be done.
About Amica Insurance
Amica Mutual Insurance Co., the nation's oldest mutual insurer of automobiles, was founded in 1907. The company, based in Lincoln, Rhode Island, is a national writer of auto, home, marine and umbrella insurance. Life coverage is available through Amica Life Insurance Company, a wholly owned subsidiary. Amica employs more than 3,300 people in 43 offices across the country. For more information, visit Amica.com.
Contact: Vince Burks, Corporate Communications, 50 Amica Way, Lincoln, RI 02865-1155, 800-652-6422, ext. 24563
Twitter: Amica
Facebook: Amica Mutual Insurance Co.