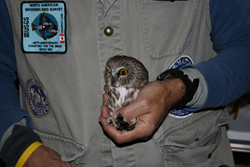 Saw-whet owl banding at Valley Falls State Park Nov. 1, 7 and 8 is one of several November events scheduled at West Virginia State Parks. Photo courtesy of the West Virginia Department of Commerce
South Charleston, WV (PRWEB) October 29, 2014
A cornucopia of November fun and adventure leads to the Thanksgiving holidays at West Virginia's state parks. Ten state parks lodges have restaurants in the 49 areas that make up the mountain state's park system, and they will feature Thanksgiving meals and buffets. Those looking for a little exercise and outdoor discovery will find many activities, most at no cost and all open to the public.
Fly-fishing on the Bluestone is a package event known as "Trout Wrangler." Offered at Pipestem Resort State Park, the activity is available through Nov. 23, 2014. The experience includes horseback transportation to the river, four full meals, fishing for stocked trout, and overnight at Mountain Creek Lodge. A mentor is on-site to assist fly-fishing novices. Reservations are required. The participation per event is limited to 10. Ed Wooton is the park contact at 304-466-1800 or visit http://www.pipestemresort.com /Pipestem_trout_wringler.pdf.
The Allegheny Trail Hike at Watoga State Park Nov. 1 takes walkers to the top of Beaver Lick Mountain on the Allegheny Trail. The hike, led by park superintendents Mark Wylie or Kelly Smith, begins at 10:30 a.m. Participants should park at Beaver Creek Campground and wear hiking or sturdy walking boots. The hike is free to attend and open to the public. http://www.watoga.com, 304-799-4087
Fall Discovery Walk, Nov. 1, led by naturalist Renee Fincham, at Cacapon Resort State Park gives hikers good exercise and also the opportunity to learn how Cacapon's oak woodland changes with the fall season. Meet Fincham at the Nature Center at 9:30 a.m. to explore the natural wonders of the Ridge Trail. This trail is approximately 1.5 miles with a few hills. Other activities include a pine cone bird feeder craft at 11:30 a.m. and Wildlife and Their Tracks event at 2 p.m. http://www.cacaponresort.com 304-225-1022
Saw-whet Owl Banding at Valley Falls State Park will have a banding station in place at 8:30 p.m. Nov. 1, 7 and 8. Joey Herron conducts this program. There is a lodging rate reduction at Tygart Lake State Park for anyone attending the saw-whet program. Tygart Lake Lodge, located near Grafton, offers a reduced room rate for saw-whet program attendees. This late evening interpretative program has hosted more than 250 birders interested in this small owl. Herron plans a late May owl program at Blackwater Falls State Park to further introduce people to this small raptor. To learn more about Valley Falls State Park, visit http://www.valleyfallsstatepark.com. To get the meeting location and banding details, email Herron at wvsawwhet@yahoo.com.
Survival Weekend with Dave Canterbury is Nov. 1-2 at Prickett's Fort State Park. A TV personality, David Canterbury and his team of survivalists lead in an intense weekend of survival techniques and skill building. Space is limited to 25 students. Survival Weekend is two days and is a fee based workshop. Prickett's Fort State Park has a host of interpretative based workshops and weekends throughout the year. The 2015 schedule is posted online at http://www.prickettsfortstatepark.com. To register and learn more about the Survival Weekend, call, 304-363-3030
An Arts and Crafts Bazaar is at Chief Logan Lodge Nov. 8- 9 featuring area arts and crafts vendors. To learn more about the event or to stay at the lodge for a weekend filled with pre-holiday gift ideas, call 304-855-6100. http://www.chiefloganstatepark.com
Bare Bones music and dinner evening at Twin Falls State Park in Wyoming County Nov. 8. Bare Bones, an a Capella group from West Virginia, is a three-person group performing a variety of music, old and new. Along with the music, dinner will be provided by the staff in the Twin Falls Restaurant. Dinner is included in the package deals along with event fee and room accommodations. Bare Bones and Dinner is $43 per person; overnight double occupancy, queen room, dinner and entertainment is $162.50 for two. Overnight with double beds or queen rooms is less. 304-294-4000 http://www.twinfallsresort.com
Warm Winter Weekend Nov. 8 is a moonlit walk at Cacapon Resort State Park under the early evening skies of November. The walk will begin at 6:30 p.m. at the golf course starter building and will use paved cart paths. Strollers are permitted on the cart path; however, pets are not allowed. Wear sturdy shoes and dress according to the weather. This evening walk is co-sponsored by Starting Points of Morgan County. For more information call 304-258-1022 x 5209 or visit http://www.cacaponresort.com
"Journal to the Self" Fall Session at Cacapon Resort State Park is Nov. 14-16. Methods taught in this workshop can help explore various aspects of yourself, life and relationships with others. The only skill needed to participate in the workshop is a willingness to be open to self-discovery and personal growth. The workshop is led by Anne Barney, certified instructor in the Journal to the Self curriculum and award-winning author of four books of poetry. The workshop is for those 18 years or older, and will have between four and 12 participants.
304-258-1022 x 5209 http://www.cacaponresort.com
Country Line Dance Weekend is at Pipestem Resort State Park Nov. 14-16. The two-night, two-day event includes dances, instruction or just relaxation before the holidays. Alice Daugherty and Tim Hand are the weekend dance instructors encouraging beginners and intermediate dancers to participate. For registration information, call 304-466-1800 or email pipestemsp(at)wv(dot)gov.
Blennerhassett Museum's Holiday Open House is Nov. 16. The Blennerhassett Museum will be decorated for the holidays. An afternoon reception at the Blennerhassett Museum of Regional History from 1- to 3 p.m. will feature local entertainment and refreshments for visitors. 304-420-4800 http://www.blennerhassettislandstatepark.com
West Virginia Division of Natural Resources
http://www.wvdnr.gov
Earl Ray Tomblin, Governor
Frank Jezioro, Director
News Release: Oct. 29, 2014
Facebook: West Virginia State Parks
Twitter: WV State Parks
Hoy Murphy, Public Information Officer 304-957-9365 hoy(dot)r(dot)murphy(at)wv(dot)gov
Contact: Sissie Summers, Parks and Recreation Section 304-558-2764 Sissie(dot)A(dot)Summers(at)wv(dot)gov