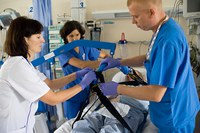 We need to get the message across that, in order to achieve and maintain high-quality patient care, we must make workplace safety and health a priority.
(PRWEB UK) 30 October 2014
Health- and social care is one of the main sectors in Europe, employing approximately 10 % of the EU workforce, with women representing 77 % of healthcare workers. It is a sector that is expanding rapidly, and will provide increasing employment opportunities for the foreseeable future, as a result of Europe's ageing population, the expansion and development of services to meet the demand for better quality care and an increasing demand for personal care services.
Because of the many different, and sometimes uncontrolled, settings in which they work and the range and type of tasks they carry out, healthcare workers encounter a wide range of risks. These include biological and chemical risks (such as infections from needlestick injuries and handling hazardous substances), ergonomic risks arising from patient handling and psychosocial risks resulting from working unsocial hours, emotionally draining work and exposure to aggressive behaviour.
All this adds up to make health- and social care a high-risk sector. Although technological advances have helped to reduce or remove some of the traditional risks in the sector, the number of work-related accidents and diseases is still unacceptably high. In addition, these technological advances bring with them new hazards that need to be addressed.
Director of EU-OSHA, Dr Christa Sedlatschek, put the report in context and made the 'business case' for improving OSH in the healthcare sector. 'This report is published at a time when healthcare workers are increasingly exposed to a variety of risks that range from work-related stress or burnout to exposures to tropical diseases such as the Ebola virus. In addition, many healthcare systems in Europe are currently undergoing a process of reform. One of the key features of the healthcare sector is that the care of patients is quite rightly the main priority — but sometimes this has been to the detriment of workers' safety and health. We need to get the message across that, in order to achieve and maintain high-quality patient care, we must make workplace safety and health a priority.'
This report gives an overview of the current and emerging OSH issues for health- and social care workers and how these affect their safety and health at work and influence the quality of care they provide. It highlights the challenges facing the sector, including shortages of skilled and experienced professionals, an ageing workforce, increased use of technology requiring new skills and the introduction of new care pathways to tackle multiple chronic conditions.
The fact that people are living longer and increasingly needing long-term care shifts the emphasis from the controlled setting of acute hospital care to care in the community and people's homes. The home care setting presents a particularly difficult work environment owing to small work spaces, lack of training, lone working, little or no supervision and having to face the same hazards as those encountered in, for example, hospitals but with insufficient measures in place to control the risks.
By combining a state-of-the-art literature review and a survey that was developed and sent to OSH professionals in all Member States, this report allows the findings in the literature to be compared with those from the 'front line'. The results provide guidance for policy-makers, researchers and OSH professionals in terms of improving workplace safety and health in this sector. Something that is essential if the healthcare sector is to meet the challenges it faces and provide high-quality patient care well into the future.
Links:
Read the full report
Read the executive summary
More on OSH in the health care sector
Ebola virus disease – risk of exposure at work
Notes to editors
1. The European Agency for Safety and Health at Work (EU-OSHA) contributes to making Europe a safer, healthier and more productive place to work. The Agency researches, develops, and distributes reliable, balanced, and impartial safety and health information and organises pan-European awareness raising campaigns. Set up by the European Union in 1994 and based in Bilbao, Spain, the Agency brings together representatives from the European Commission, Member State governments, employers' and workers' organisations, as well as leading experts in each of the EU-28 Member States and beyond.
Now you can follow us on Twitter, visit the Agency's blog or subscribe to our monthly newsletter OSHmail. You can also register for regular news and information from EU-OSHA via RSS feeds. http://osha.europa.eu
Press inquiries
Birgit Müller - International press +34 944 358 359 | news(at)osha.europa(dot)eu
Marta Urrutia - Spanish press +34 944 358 357 | noticias(at)osha.europa(dot)eu
Brenda O'Brien - Brussels Liaison Office +32 2 401 68 59 | obrien(at)osha.europa(dot)eu