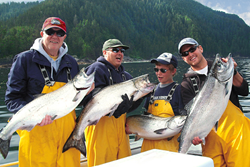 Ketchikan, Alaska (PRWEB) October 30, 2014
Waterfall Resort, Alaska's most popular fishing lodge, announces its 2015 calendar of celebratory events and enticing packages. From the King Salmon Jackpot Challenge to Father's Day and Fourth of July, Waterfall Resort invites both novice and seasoned anglers to experience one of the world's most exciting sport-fishing destinations.
The Experience: Waterfall Resort guests reel in more than twenty varieties of local sport fish such as trophy-size King Salmon, Silver Salmon, Halibut and Yelloweye on daily fishing excursions led by expert guides. Additionally, Southeast Alaska's natural landscape allows for awe-inspiring wildlife encounters with whales, Bald Eagles and black bears. As evening approaches, guests feast on hearty fresh Alaskan seafood in the Dining Room and recount the day's adventure at the Lagoon Saloon.
Dates and Deals: Travelers who book now for the 2015 summer season can take advantage of savings and the following line-up of events:

King Salmon Jackpot Challenge – June 12-15, 2015
Kick-off the 2015 season with $500 off Waterfall Resort's all-inclusive packages and a free 3-day tournament to catch the biggest king salmon. There's no entry fee for this popular contest during peak king salmon season. Waterfall Resort has awarded more than $2MM in tournament prizes over the years.
Dads & Grads Days – June 21-24, 2015
This Father's Day (June 21), guests will participate in festivities honoring both fathers and recent graduates. Celebrate family traditions, and pass the legacy of Waterfall Resort to the next generation. Every family member receives $100 off each night, plus groups of four get 25% off Townhouse upgrades.
Fourth of July – July 1-8, 2015
From sea to shining sea – Get a fourth night free for stays that overlap the night of July 4th. Independence Day celebrations include legendary sport fishing in a historic setting, an all-American BBQ, fun games and a private fireworks show.
Waterfall Creek Salmon Run – Mid-August
Experience wildlife in all its glory – Each August, the local pink salmon of Waterfall Creek swim home to spawn in the sparkling pool below the resort's namesake waterfall. Cheer them on as they dodge black bears to make their epic journey! (*Event dates may vary based on the salmons' discretion.)
Seniors Week – August 17-24, 2015
August is peak season for silver salmon (Coho) and the weather is typically at its most mild. Guests 65 and older get a special 25% off their land package, August 17-24. For a multi-generational travel experience, combine with the Kids Rate and bring the grandchildren!
Each of these packages are based on availability. Kids visiting Waterfall Resort should be at least 12 years of age. Kids 15 and under get 15% off list rates when fishing with an adult (Kids Rate may be combined with Dads & Grads Week and Seniors Week).
Established in 1912, Waterfall Resort was once a wild Alaskan seafood cannery that broke records for the sheer volume of salmon it caught and exported all over the world. In 1982, The Waterfall Group transformed the property into one of the finest remote sport-fishing destinations in the world. Its location on Prince of Wales Island adjacent Alaska's Inside Passage combined with its all-inclusive four-star guest service, expert guides, historic accommodations, and hearty Alaskan dining make for an unforgettable experience year after year.
For more information or to book a stay, call 800.544.5125 or visit http://www.WaterfallResort.com.
About The Waterfall Group
Waterfall Resort is managed by The Waterfall Group, leaders in adventure hospitality management. Founded in 1980, The Waterfall Group destinations are known for their unique accommodations, friendly customer service, expert marine crew and close proximity to the best sport fishing in Alaska. Welcoming more than 50,000 guests at its resorts, The Waterfall Group boasts an impressive guest return rate that includes multiple generations. The Waterfall Group also manages Waterfall Resort's exclusive luxury sister property Steamboat Bay Fishing Club, the closest lodge to the best fishing in Southeast Alaska.